It's been less than a week since Koly & Kelly declared K9 Kamp closed for the season. WOOF! I can't tell you how nice it was to relax this weekend. For the first weekend in a while, I can stand without moaning, groaning and making the kind of noises that make it sound like I am having way more fun than I really am.
Koly and I aren't giving up on getting fit together though. 
We can't. Well, he probably could. Since we switched to raw food and starting exercising together, that boy is looking like a lean mean puggle machine. He's at his perfect weight. Me, on the other hand? Well,I'm still a work in progress.
Exercise isn't the only thing I'll miss about Kamp.
Three months ago, my K9 Kamp co-host Peggy was a complete stranger. Kamp was the result of a couple late night tweets and one of the best things to come out of K9 Kamp is our friendship. I could not have done K9 Kamp without her and I was so flattered when she asked Kol's Notes to be the very first stop on the blog  tour for her brand new book.
Meet Peggy, my K9 Kamp Partner in Crime
Today is a huge day for Peggy. Today is the day her first book, Dieting With My Dog, hits the shelves TODAY! WOOT WOOTEN! My copy is already winging it's way to me and I can not WAIT to read it. Until I can get my paws on the actual book, Peggy was kind enough to answer some questions for me. 
In it to win it, Baby!
To celebrate her book launch, Peggy is giving away copies of some of the other great books that contain her stories, like Chicken Soup for the Soul: My  Dog's Life, Chicken Soup for the Dieter's Soul & the Ultimate Dog Lover. Order you're copy of Dieting Win My Dog, head over to Peggy's Blog and check out all the details!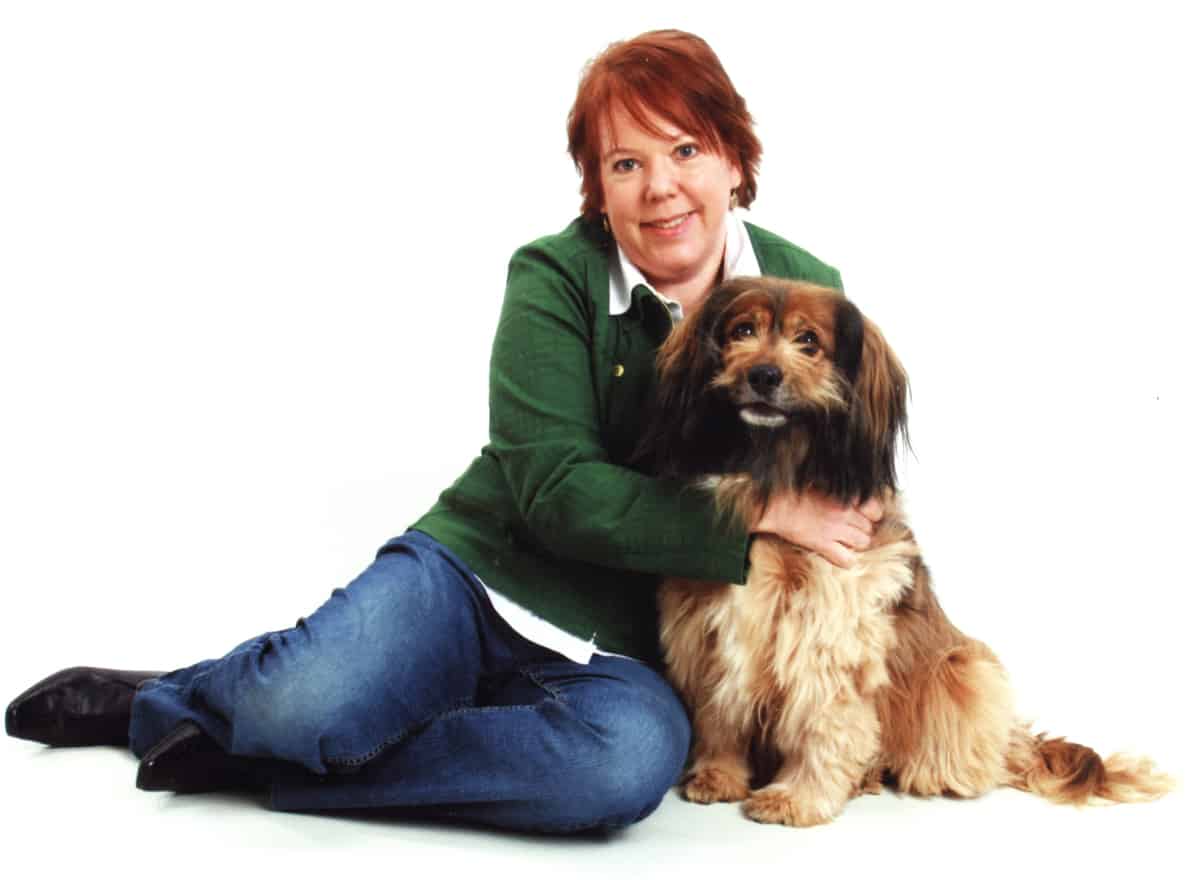 Q: When and why did you begin writing?
I've always loved reading and writing. (however, numbers and I don't get along!) The earliest writing I can remember is a poem, The Rain, which was published in a kid's magazine when I was 8 year old. I don't write poetry anymore. But I've always enjoyed creating characters and imagining places, and that is why I began writing.
Q: When did you first consider yourself a writer as opposed to "a person who writes"?
I'd written professionally for quite some time: radio copy, press releases, reading comprehension tests like the SATs. Remember those?! Anyway, my husband encouraged me to submit a story to a writing contest for Guideposts magazine. I'd never submitted any of my writing anywhere before. Amazingly, I won, and when I realized that they didn't want just that one story, but they wanted me to continue writing for them, and they were actually paying me for my stories, that's when I first truly felt like a writer.
Q: Did you always want to be a writer or was your original inspiration to be something really cool, like a fire truck? (For the record, I wanted to be a barbie convertible. I didn't want to own one, I wanted to be one.)
First I wanted to be an oceanographer, until I discovered I was rather claustrophobic and the idea of getting into a tiny cage and going underwater with sharks lost its appeal. Then I wanted to train seeing eye dogs. (I think you would have made an awesome Barbie convertible.) 
Q: Where else can folks find your work?

I'm proud of my work as staff writer for Be the Change for Animals, and write the column there Animals 4people. I love the causes and organizations we help promote there.
Q: Is there a post or two you are particularly proud of?

One of my favorite stories resulted from interviewing Bill Berloni, theatrical animal trainer, for Guideposts magazine. I had so much fun meeting him at the Humane Society in NYC, where he also helps coordinate pet adoptions. I learned all about how he discovered the very first dog Sandy for Annie on Broadway, and all the other dogs he works with in shows, movies and commercials. The dogs live on his farm when they're done working.
Q: What inspired you to write Dieting With Your Dog?
It started, originally, as a Guideposts story. I received such a response to the story, from people who were in the same situation, and I realized that overweight pets and pet obesity was an issue many people struggled with. I wanted to share my story with Kelly to reach and hopefully inspire more people.
Q: What would you say is your biggest diet downfall? Do your dieting challenges affect Kelly's diet too?
Ice cream. Definitely ice cream.
When I was eating all the wrong foods, so was Kelly. I'm not a fan of bread crust and pizza crust, so Kelly would always get my scraps. I didn't realize what went into a good quality diet for myself or for Kelly. Also, because I work from home and Kelly is home with me all day, we'd both tend to snack.
Q: What kind of exercises do you and Kelly love? Anything you HATE? How about Kelly? Any exercises she just doesn't enjoy?
If it wasn't for Kelly, I'd probably sit at my desk all day, but she loves walking so much that I am excited to do it for her. My husband and I go to the gym 3 or 4 times a week, and I can't say that I love exercising but I do appreciate that I'm doing something good for myself. I'm not a great runner, but Kelly loves to run and jump. She is really spry for her age, almost 10. The only exercise she doesn't enjoy is the returning part of fetching. She'll chase after the toy, but doesn't like to bring it back.
Q: Is Kelly a squirrel chaser? Have you ever considered just getting her a squirrel for the yard? He might make an awesome personal dog trainer.
Oh yes! We live in the city and have a smallish back yard, but we have squirrels. And they love to tease Kelly! One will sit on the fence and chatter, and Kelly will go bolting after it, barking like crazy. Then the squirrel sprints up a tree, and disappears into a network of limbs. Kelly will be looking up, barking, desperate to catch the squirrel, and it's already six trees away, looking down at her and laughing.
Q: Do you have a favourite snack? How about Kelly? Did you have to rethink those snacks once you started dieting?
Before dieting, my favorite was M&Ms. I love all the different colors, flavors, sizes! Of course now, I try not to eat M&Ms. My favorite healthy snack is blackberries. We even have a berry bush sprung up in our back yard out of nowhere. I think a bird must have planted it for us. Kelly loves baby carrots. Around midnight every night she barks at me and pesters me until I get up and get her some carrots.
Q: If Kelly was to tell me all your dieting secrets, what would she tell me? Would she share a tip? Tattle on some secret snacking? Go ahead Kelly, it's just between you and me (and a 1000 or so of my readers).
Kelly would tattle on me, for sure. Mainly for late night ice cream parties. But she'd also tell you that, other than ice cream, there are very few sweets or goodies in the house. And that her mom tosses her baby carrots for snacks, and even munches them herself!
Q: What question have you always wanted to be asked in an 

interview

? How would you answer that question?
Question: What would you do if you had an entire day to spend any way you wanted?
Answer: I'd sit in an Adirondack chair in a field on a beautiful warm day, looking out over a lake, with my whole family with me, and Kelly too of course. And there'd be other dogs all running around playing together along the shore. And all the birds and the wildlife running around outside, and fish jumping up out of the water would be so fun to watch, so much better than TV. I might read, or do a crossword puzzle, but mostly I'd just watch.
Thanks so much to Peggy for dropping by! Make sure you check out her book today!
________________________________________
It's Mutt Monday! 
Click on the image to the left to join this fun Blog Hop from All 
Tasty Tuesday is Coming!
Do you have a recipe for Yummy Dog Treats?  
Are you hosting an awesome review or giveaway for a yummy snack? 
Did you try something delicious this weekend and want to share it with us?
________________________________________
All posts are the property of Kolchak's Kitchen and Kolchak Puggle/Jodi Chick. Please ask before reposting content. All reposts must link back to our site. Thank you!
If you liked this, then you'll probs like these too:
Comments
comments