Well about GOSH DARN TIME!

Finally,
a day celebrating the best dogs around. Black dogs. Black dogs get cold tail treatment and I have
no idea why.
I mean , look at me. I am all sorts of awesome. All the brown dogs wanna be me and all the ladies be flockin' ta Kolchak Puggle. Once you go black, you
never go back.
 (OMD, I am so very sorry. I tried to stop the Mama from typing that.)
So in the true spirit of Black Friday, we want you to meet Madison, a ridiculously adorable, awesomely adoptable black puggle in Belleville, IL.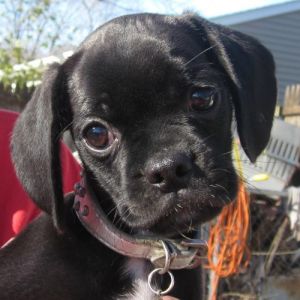 Madison is just a little peanut! Still a puppy, she only weighs 6 lbs! Can you help her grow up big and strong? Contact the IL-MO Pug Rescue for more information on how to make Madison your very own and celebrate Black Friday!!
What do you mean Black Friday has nothing to do with Black Dogs?


It's about shopping?? Well, colour me confused! I'm not really sure why they just don't call it Bonkers-Deals Friday or Get Shived Trying To Buy Dirt Cheap Deals Friday. Humans are so weird.
Well, in that case, we might as well tell you about a great Black Friday deal. Why should the humans get all the great swag at rock bottom pieces?
Check out our friends at
Krazy for Pets
and their
40% off
Black Friday Sale. 
That's right, 40% off almost everything in the store!
(excluding tags and sale items)
******************************
Check out
Doggyloot
to get great deals of 45% – 60% off
every single day.
 You can score great deals like this one from photokoozie.com!
Want to **WIN** some great Doggyloot for yourself? 
Doggyloot is giving one lucky Kol's Notes reader a $50 Gift Credit!
Enter to win now!
All posts are the property of Kolchak's Kitchen and Kolchak Puggle/Jodi Chick. Please ask before reposting content. All reposts must link back to our site. Thank you!