Unique and adorable custom tags & collars for your furry friends!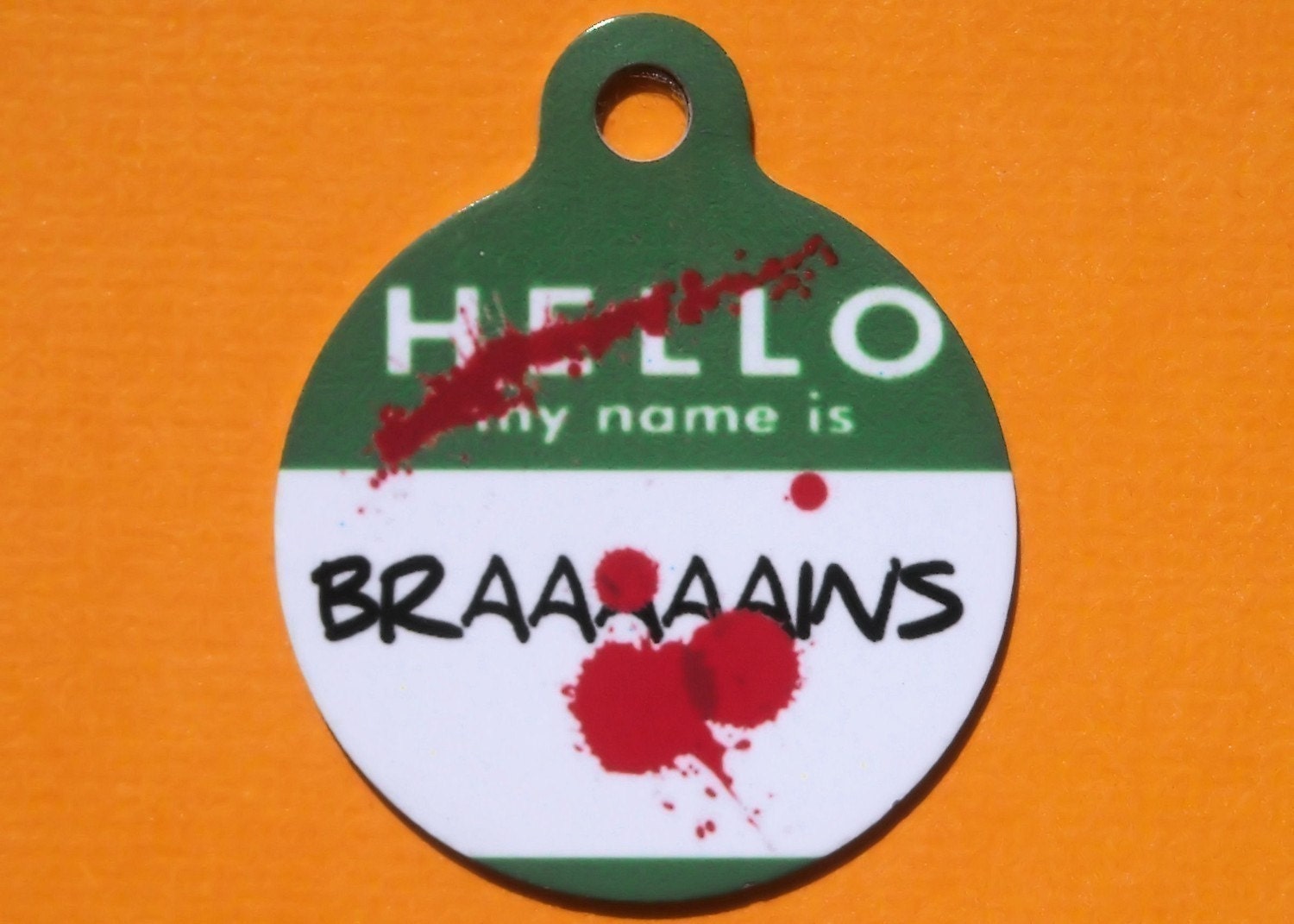 Must eat Braaaaaaaaaaaaaiiiiins! Check it out! Look at the Zombie Puggle that Dr. Shawn Finch drew for me. That vet has got some MAD Sharpie skills. Click here to check out her blog and commission a Sharpie Masterpiece of your own! She's taking requests and all it will cost you is a donation to her Blogpocalypse charity, the NE Humane Society!
JUST KIDDING! 


No worries pups! I'm not going to start shambling around devouring brains anytime soon – besides, like Dawg Business points out there is no reason to believe that the Zombie virus (presuming it is indeed a virus and not a bacterial infection or genetic mutation) would spread to our pets.
A Tongue in Cheek Tasty Dog Treat Recipe


The only kind of brains I'm craving are the zombie brains dog treats the Mama made this morning!
Brrrrraaaaaaiiiiiinnnnnssss! Zombie Brains…with a gun shot wound.
(the Mama is one sick puppy for creating these. I am so sorry guys.)
The Ingredients:
1 1/2 cups. Potato Flour (or just flour if your dog is grain tolerant)
2 large chicken breasts
3/4 cup Low fat, low sodium chicken stock
1 cup cooked broccoli florets (or any other dark green vegetable)
1 tsp. baking powder
1 egg.
chunk of sweet red bell pepper
Preheat oven to 350F and line a baking sheet with parchment paper.
Dice raw chicken into small cubes. In a blender, food processor or Magic Bullet (my fav), combine chicken cubes and 1/2 cup chicken stock until you have made a paste (like the consistency of honey).
Pour chicken into a large bowl. In the blender/food processor or Magic Bullet combine cooked broccoli and remaining stock. Blend until smooth, add to chicken and mix thoroughly.
Add in flour, baking powder, and egg. Mix throughly into a stiff dough. If dough is too sticky, add a little extra flour to stiffen it up.
**IF YOU ARE CRAZY LIKE MAMA**:
Create an oval of dough and smack it down onto the tray, so the bottom flattens a bit.
Roll the dough into think tubes (kind of like you used to do with playdoh.) Use the dough tubes to create a brain pattern on top of the oval
Roughly chop the red pepper (you need about 18 small chunks). Press a chunk of pepper into the doughy brain, right where the gunshot wound should go.
**IF YOU ARE A NORMAL SANE PERSON**
Roll out dough to about 1/4″ thick. Cut into circles with a cookie cutter. Press one (or more) chunks of red pepper into the cookie.
Bake for 25 – 30 minutes. If you would like the cookies to crisp up, turn the oven down to 150F and leave for two more hours.
You can't tell in the crappy photo, but these have a light green colour to them, from the broccoli.
Eat zombie brrrraaaaaaaaiiiiiiiinnnnnnsssssss!
Brrrrraaaaaaiiiiiiinnnnsss!
To enter, leave a comment below telling us if you think these treats are totally awesome or absolutely disgusting! Would you eat braaaaains?
Want some bonus entries? OK! 
Make a donation to the Lucky Dog Rescue (via our Chip In below) and comment below "I donated to the Lucky Dog Rescue" (Suggested minimum donation of $2.00 per entry. Please use the same email to comment as you use to chip in). 
Share this post via Facebook or Twitter asking your friends to donate and leave a blog comment with a link to the post.
**Open to residents of the US and Canada, except Quebec. Winners must correctly answer a skill testing question. 
Winner will be drawn Monday, November 14th.
We've got tons of great prizes to give away! Check back throughout the day to win even more great Zombie Dog swag!
Not able to donate right now? Maybe you could help support another great MS Rescue, ARF of MS by voting for them in the Chase Community Giving Contest – they are SO CLOSE to winning some seriously needed funds. Your vote could help make that possible! Click here to vote now!!
All posts are the property of Kolchak's Kitchen and Kolchak Puggle/Jodi Chick. Please ask before reposting content. All reposts must link back to our site. Thank you!
If you liked this, then you'll probs like these too:
Comments
comments