T-shirts ~ Metal Artwork ~ Custom Work Available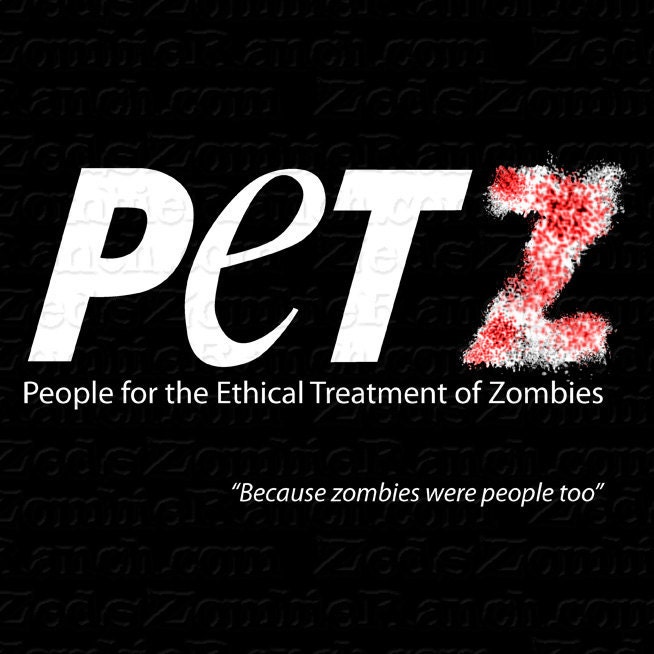 You could win a a People for the Ethical Treatment of Zombies T-Shirt from 
Zed's Zombie Ranch
It's Hour 11 and it just occurred to the Mama that we aren't even halfway there yet.
Egads…it's gonna be a long night folks. You know what will keep us motivated to stay awake and keep the Zombies from descending on Blogville? 
Donations! 
Don't forget that we're raising money for the **awesome** Lucky Dog Rescue! Donate at the chip in below.
Now, maybe it's the late hour and the fact that the Mama has been "day dreaming" just a tad, but she's been thinking…
What if Zombies were just regular every day people?
What if we could peacefully co-exist?? What if zombies were just folks with an addiction to grey matter? What if we could find a way to supply it safely or if we could create a drug to replace it? Could there be brain clinics, just like there are methadone clinics for heroin addicts??
It has the Mama's brain all tied in knots. 
What if they aren't the enemy? What if they are just addicts, too weak to help themselves??
Don't we have a responsibility to try to cure them by some other means than a crossbow arrow to the head?
I mean look at this video taken at the Vancouver Zombie Walk this year. I was there. So was the Mama. Look at how the zombies and the regular folks just walk the streets together.
♫ And I think to myself….What a wonderful world. ♪
To enter, leave a comment below telling us if you would befriend a zombie, if they promised not to eat your brain.
Make a donation to the Lucky Dog Rescue (via our Chip In below) and comment below "I donated to the Lucky Dog Rescue" (Suggested minimum donation of $2.00 per entry. Please use the same email to comment as you use to chip in). 
Share this post via Facebook or Twitter and leave a blog comment letting us know you did it
**Open to residents of the US and Canada, except Quebec. Winners must correctly answer a skill testing question. 
Winner will be drawn Monday, November 14th.
We've got tons of great prizes to give away! Click here to win even more great Zombie Dog swag!Not able to donate right now? Maybe you could help support another great MS Rescue, ARF of MS by voting for them in the Chase Community Giving Contest – they are SO CLOSE to winning some seriously needed funds. Your vote could help make that possible! Click here to vote now!!
All posts are the property of Kolchak's Kitchen and Kolchak Puggle/Jodi Chick. Please ask before reposting content. All reposts must link back to our site. Thank you!