Kol's Note: I usually write these rescue posts myself, but there was no way I could have done a better job than the folks at A Tail to Tell did in talking up this sweet girl. she sounds like a dreamboat.
Single Black Female looking for a Furever home and lots of love.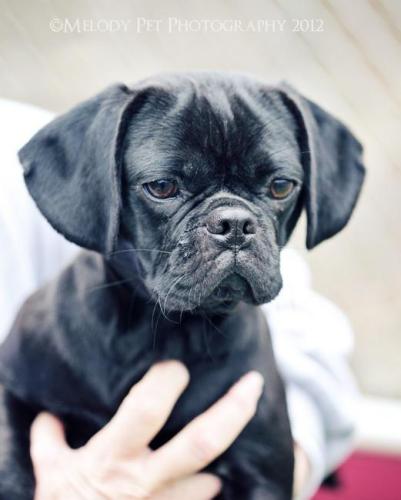 My name is Elle and I am an 8 month old Puggle. I am cute as cute can be and you find find any aggression in me. I love kids – dogs and adults – toys – food – treats and lap time. I like Pawn Stars and the Real Housewives of NJ; Those women are be-atches.


I like walking on cobblestone streets and hiking on moss covered trails. I like the wind on my face and the sun on my back. If I were a human I would ride every roller coaster I could find – sky dive – Bungee jump and roller blade. I would snow board and boogie board.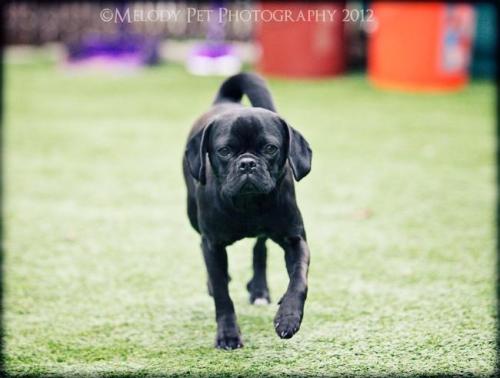 I would enjoy meals on the go and men in the know. I have only been in rescue a few days but already everyone adores me. Please go to www.atailtotell.com and fill out my adoption application. 
You won't be sorry!
More Info:

Until Recently

, 
Elle was a breeder dog in a very high volume puppy mill in Western Pennsylvania. No more! She's on her way to a life of couches and soft beds instead of one in a kennel pumping out puppies. Do you think pretty Miss Elle is the perfect dog for your fun lifestyle? Check out her Petfinder listing or the A Tail to Tell rescue site for more info.
All posts are the property of Kolchak's Kitchen and Kolchak Puggle/Jodi Chick. Please ask before reposting content. All reposts must link back to our site. Thank you!