the Mama is a bit of a fan of the Oreos.

She *claims* that she shouldn't be eating those icky chemically cookies when she could just have a salad, but in the dead of the night, I hear that rustle and I know: I't's Oreo time. I caught you red-pawed Mama. Not very sneaky are you? She never ever shares an Oreo with me though. That's why I was so woofing surprised when the Mama asked if I wanted an Oreo. 
What the woof??? Dogs can't eat Oreos. They're made of chocolate!
Are you trying to kill me Mama? ARE YOU?! I was convinced the the Mama was a part of some Machiavellian plot to off me, but then I realized that she wasn't talking about cookies.
She was talking about this: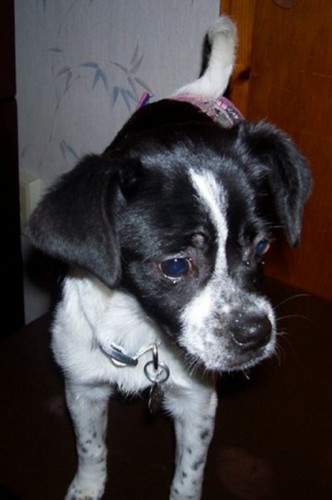 Isn't she CUTE?
Oreo is a 10 month old Puggle girl from Shih Tzu & Furbaby Rescue in Crompond, NJ. This little girl weighs in at a very petite 10 lbs. She came into rescue when her family could no longer care for her. She's very smart and energetic (duh! she's a puggle!) and needs lots of exercise and more training.
Oreo loves to be near her people, and sleeps in her dog bed. This pretty Puggle puppy would do best with a stay at home person who can continue her house training and give her supervision. 


Want to bring an Oreo into your house without ruining your diet?
Bring this little Oreo home!