When the Felix came to live with the Mama, she didn't know anything about dog food or treats.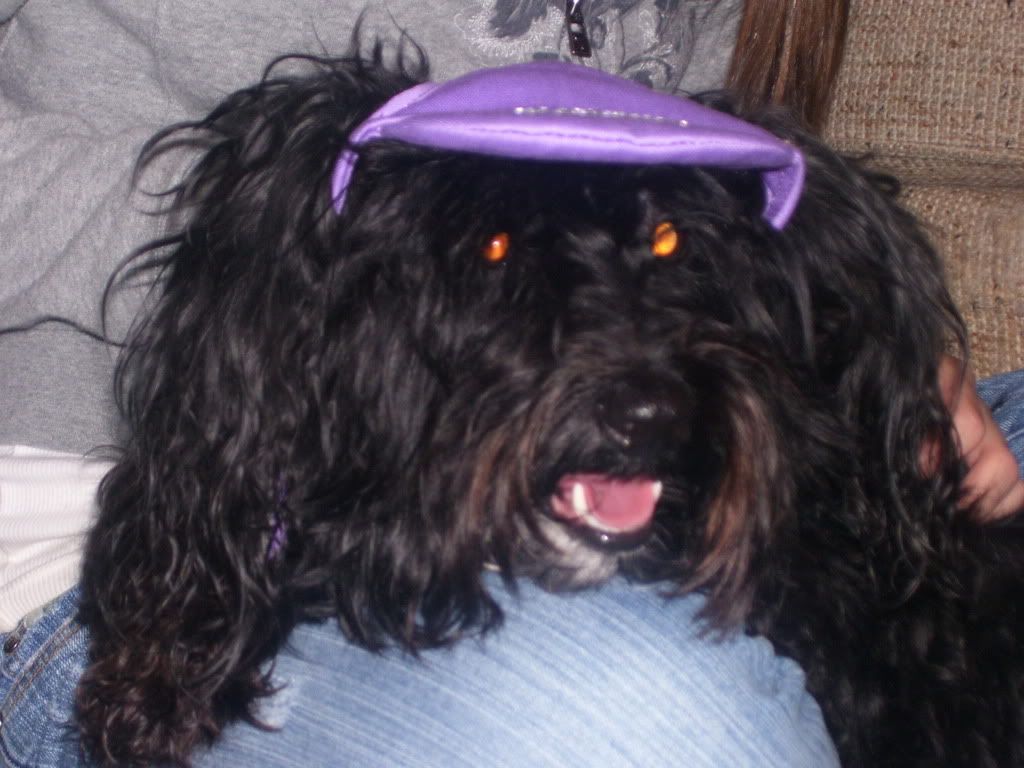 He had to wear a hat to help prevent ear infections.


To be honest, she probably didn't know anything, period. About dogs anyway. She had dogs when she was a kid and cats as she grew up, but the Felix was her first real live dog that was all her own. While she loved her childhood dogs, she wasn't really involved in their care much. She fed them, sure, but she has no idea what food. It was definitely kibble. The kind with the weird colours and "fun" shapes, so it was probably bad kibble.  When it came time to feed the Felix, she did the only thing she could think of and trusted our vet.
Little did she know that the Felix was an allergic mess. 
After only a few weeks, it became clear that what he was eating was not working for him. The Great Pet Food Recall of '07 hit a few weeks later and pretty much all the dog food & treats in our house were recalled. This started the Mama off on a journey of learning that brought us here. She made a commitment to poor, itchy little Felix and to herself to discover how to best provide the canine nutrition he needed.
It all started with an elimination diet.
Canine food "allergies" are a funny thing. They have tests for them, but these test were developed for humans and not very reliable. Even after testing and eliminating much from the Felix's diet, he was still a mess. Mama cut him back to the bare basics, then slowly added new foods in to see just what he was reacting too.
He couldn't have treats.
It was an awful time for the Felix, but let's face it. Every bag of treats the Mama looked at had a bout a million ingredients. If the Felix reacted to something, she wouldn't have known what ingredient was the problem.  As much as her heart broke that the little Fluffball couldn't snack, she was committed to helping him get well.
It was a pretty exciting day when the Mama discovered Purebites Treats.


Made with only 1 ingredient. It was like music to her ears! You can't imagine how excited she was. She bought a bag in every flavour the store had (chicken, liver & cheese) and practically ran home to the Felix.
More than 4 years later, Purebites treats are still a staple at Casa de Kolchak.
They're the treat she buys when she doesn't have time to cook. One of the treats she gives away when a friend gets a new puppy and the treats she doesn't hesitate to recommend when she is working on a food consult with an allergic pup.
We were really excited to try the new Purebites Duck treats! We love duck and these haven't come to our neck of the woods yet. Let me tell you, they are woofing awesome! We loved these tasty treats
It's not just that they're made with just one ingredient.
Purebites treats are made in Canada or the US. All the products (with the exception of the shrimp) is sourced in the USA. (Shrimp comes from the Indian Ocean)
Friendly for the waistline. These tasty Purebites treats are a great lean choice. The shrimp treats are just 1 calorie each! The range up to 12 calories each for a tasty liver treat. Purebites makes it easy to watch your pups calories by telling you exactly how many calories per treat.
Here Kitty, kitty, kitty! Purebites makes kitty treats too! The Purebites Shrimp Treats are one of the few things that make our cranky old cat Peter purr.
100% Pure. 100% Satisfaction. Guaranteed.
That's right. The folks at Purebites just know that your pet will love these treats, so they have a  guarantee. If you're not 100% satisfied, you can return the product and the receipt and they'll replace t or refund your money. Let's be serious for a moment though, in this puggle's opinion, that is never going to happen!
We love Purebites treats and we know we will too!
Mama always says that sharing is caring and we're super excited that the folks at Purebites are helping us to share their treats with you! Entire below for your chance to win one of two Purebites prizes!
You must complete the Rafflecopter to be entered to win. 
This is your exclusive source to find out if you've won a Kol's Notes Contest!
Kol's Note: I was not compensated for this post. The nice folks at Purebites were kind enough to send us  their new Duck treats to try and to provide the prizes for our giveaway. We here at Kol's Notes pride ourselves on only sharing great treats that we love and use in our own home. All opinions expressed are 100% our own.
All posts are the property of Kolchak's Kitchen and Kolchak Puggle/Jodi Chick. Please ask before reposting content. All reposts must link back to our site. Thank you!