No! Not me.
(Though apparently, the Mama says I am a scamp, as well. That Mama is a bit of a mouthpiece.)
This
is the Scamp I am talking about.
Ain't he cute?
Mama says he's got a winning smile. He looks bright and fun, with just a hint of mischief in there for good measure. That's important in a puggle.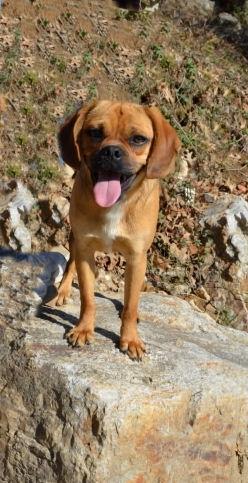 Lookit that face? He's darling.
Scamp is an energetic one year old little boy available for adoption in Medfield, MA. He weighs 21 pounds and is as friendly as can be. 
He loves people, other dogs, toys and cats. He has an exuberant personality, very outgoing, confident and friendly. (um duh, he's a puggle!)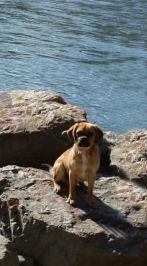 He's a hardworking puggle.
Scamp is working hard to learn not to jump on people, but he gets so excited he can hardly contain himself. He tends to pull on leash but a no-pull harness will take care of this. Scamp is house trained and does not spend much time in a crate. 
Scamp would make a terrific walking/jogging partner and would love the opportunity to play with other dogs. Scamp is curious and playful with cats. (He's a brave puggle. The kittehs are terrifying!)
You should totally adopt him.
All posts are the property of Kolchak's Kitchen and Kolchak Puggle/Jodi Chick. Please ask before reposting content. All reposts must link back to our site. Thank you!
If you liked this, then you'll probs like these too:
Comments
comments