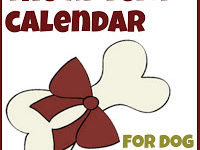 Welcome to the Advent Calendar for Dog Lovers hosted by Kol's Notes, PupLove, Rescued Insanity, Woof Woof Mama & I Still Want More Puppies! 




Every day between now and December 24th, we'll be giving away great prizes – plus every time you enter to win a daily prize, you'll be entered to win our fabulous Grand Prize Package worth more than $1000 featuring gifts from each of our 24 fantastic sponsors! 
With no further ado, we're proud to introduce today's sponsor, the Honest Kitchen!


The Honest Kitchen is pet food – made different.
Made from all human grade ingredients and gentle dehydrated to remove the moisture, but not the nutrients, Honest Kitchen Pet Food is naturally good for your pet.
Just as easy as kibble, you just add water, watch the food hydrate to 4 times it's original weight to create a deliciously warm, nourishing meal. 
Plus, they make a line of fantastic treats.
Kolchak and Felix would step over their mother (I'm not kidding they practically trample me) to get to a box of the Honest Kitchen Beams. These tasty treats are 100% pure Icelandic Catfish Skin.
Their Wishes treats are pure Icelandic Haddock. Yum, right?
They also have a liine of supplements and herbal teas, designed just for dogs!
The Honest Kitchen is giving today's winner a gift pack of food, treats, supplements and more.

They're also adding one of each to our fabulous grand prize package worth $1000!

Enter now for your chance to win and check out the entire Advent Calendar for more chances to win great prizes!
You must complete the Rafflecopter form and leave a comment below in order to be eligible to win. Good luck!
All posts are the property of Kolchak's Kitchen and Kolchak Puggle/Jodi Chick. Please ask before reposting content. All reposts must link back to our site. Thank you!
Comments
comments