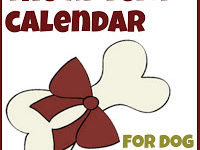 Welcome to the Advent Calendar for Dog Lovers hosted by Kol's Notes, PupLove, Rescued Insanity, Woof Woof Mama & I Still Want More Puppies! 




Every day between now and December 24th, we'll be giving away great prizes – plus every time you enter to win a daily prize, you'll be entered to win our fabulous Grand Prize Package worth more than $1000 featuring gifts from each of our 24 fantastic sponsors! 
With all the controversy surrounding jerky treats, it can hard to know what products to trust. That's why we love the Real Meat Company. 

Not only do they make a jerkey treat that the Casa de Kolchak dogs love, they make the treats in the USA using meat from the United States, New Zealand and Australia.


That alone would be enough to make our dogs drool, but the Real Meat Company also makes their treats using free range, humanely raised meat with no hormones or antibiotics. 
Not only that, they're made without grain or fillers and there's no artificial flavours or preservatives. 
This is a product I can feel good about giving my dogs.
These tasty treats are even good for my Felix and his wretched food allergies. The venison jerky treats are a huge hit with allergic dogs, since novel proteins tend to cause less reactions. Plus, they've got other great flavours that make Kolchak's tail wag. They also make meat shakers to help jazz up boring kibbles  and add flavour to treats like our K9 Chips.
Do you want to win these great treats?
The Real Meat Co. is giving away a gift pack of their tasty products, plus they're adding a gift pack to our fabulous grand prize package! 
Enter now for your chance to win and 
check out the entire Advent Calendar
 for more chances to win great prizes!
You must complete the Rafflecopter form and leave a comment below in order to be eligible to win. 
Good luck!
Due to shipping restrictions, a Canadian winner may be offered an alternative prize.
All posts are the property of Kolchak's Kitchen and Kolchak Puggle/Jodi Chick. Please ask before reposting content. All reposts must link back to our site. Thank you!
Comments
comments