Have I told you lately that you guys are awesome as heck?
Like amazingly, totally wholeheartly amazeballs. Holy woof, I can't even thank y'all enough for taking the time to tell us what you see in Kol's Notes, what you like, what you dislike and what you want more of. (If you haven't weighed in yet, this is your chance to help shape Kol's Notes and the direction we'll be moving in. It only takes a minute, swearsies.)
We've loved reading your answers, but one really caught Mama's fancy, so strongly that she just couldn't wait to start tappity tapping away on the keyboard. She skipped the Amazing Race, yo. That's big bones. She never does that. (Don't let her fool you, pups. I saw her PVR the woof out of that.)
Just how do we come up with our recipes?
What a fabulous question! Thank you so much for asking. Recipe creation is one of my absolute favourite things about this blog. It's exhilarating and exciting and frustrating and awesome and awful all at the same time. I've been creating human recipes for as long as I can remember. The formula for human cookies is easy! Fat + Flour + Sugar + Flavour + Rising Agent = Cookie deliciousness. I make a mean human cookie.
Too bad dog treats are a whole 'nother ballgame.
I try to limit the fat in my dog treats and I'm super fussy about the type of fats I use. I don't like to use wheat, corn or soy. I'm not a huge fan of barley. I like to make meaty treats whenever I can. Dog treats are hard, yo! Over the years, I've mapped out a planning process to help me decide the best way to tackle my treat recipes.
It all starts with a vision. Before I get in the kitchen, I always have some idea of what I want to make. Maybe I want a cookie with a certain look (like our banana carob bones) or maybe I'm trying to match a favourite flavour (like our Chicken & Cheese Biscuits). For the purposes of this post, I'm going to tell you about developing the winner of our Halloween poll: Candy Corn dog treats, just like these human cookies only dog friendly and puggle approved.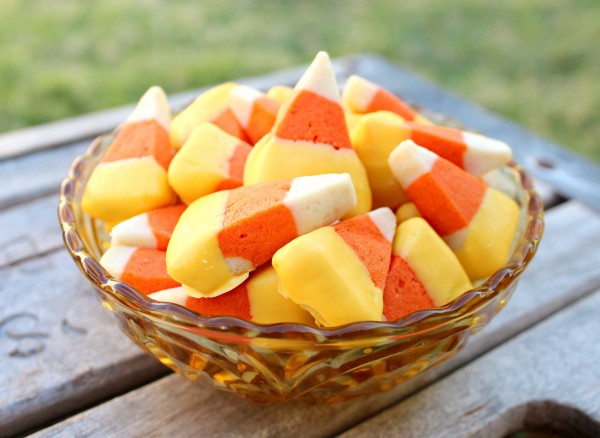 Once I know what I want them to look like, I start thinking about flavours. As important as it is to have a super adorable cookie, the flavour is the #1 most important part. If it doesn't smell (and taste) good, no doggy is going to eat it. For this cookie, I knew that the colours paired perfectly with some fall flavours and those flavours would help me naturally create my candy corn colours. I settled on two versions: acorn squash, sweet potato and turkey and three cheese.
Structure! Structure! Structure! Now that you know what you want it to look like and taste like, it's time to think about how you put it together. For these cookies I needed a dough stiff enough to mold, but soft enough that the layers would meld together and stay together. Flour choice is key! Since I rarely, if ever, use regular wheat flour, I'm always carefully considering what type of flour to use. I prefer to use gluten free flours, whenever I can. They're harder to work with, but can be a healthier option for our pups. Oat flour is hearty and easy to use, but can dry a dough out and make it crumbly. Quinoa flour can be tough. Arrowroot is a great thickener, but not great support for a cookie. Bean flours are so so easy to use, but have a really strong flavour. Potato flur has a flavour my dogs love, but is fussy to work with. Knowing how each flour works and how they work together will help you decide which flour (or more likely, which combination of flours) is best to use.
Keep it together. You're going to need to use something to help bind your flour to you flavour components and help your treats stay together. My go to binder is egg, because it's a binder, but also adds moisture and leavening, but it's not the only choice. Pups with egg allergies still have options. Ground flax seed and water makes a fairly reliable egg substitute. Mashed banana or apple sauce can be used in some recipes with mixed results. I've also used agar agar powder and mashed starchy vegetables as binders.
Raise the Woof! If your treat is cake like you may want to add a leavening agent. Even some cookie recipes can benefit from a bit of light airiness. Be careful though, add too much baking powder or baking soda and it will give your treats a nasty taste. Baking powder is an acid and a raising agent. Baking soda needs to have an acid in the recipe to work. You can also add air through handling, like whisking, kneading or beating.
Size matters. I don't care what the humans say the size of each ingredient matters. Too much moisture and your cookies won't set. Too little and they'll crack. Too much flour and your cookies will be bland, but too much of the flavour ingredient and your cookies won't have the structure to stay together.
Mix it up. How you combine your ingredients is every bit as important as the ingredients you're mixing. Do you need to mix your wet ingredients together first? Do you need to beat the egg to add air? Should the flour be sifted? Depending on the end result you want, how you add the ingredients can make all the difference in the world.
No, size really really matters. If you make your final treats too big or too small, they won't bake right. You could end up with a cupcake that's raw on the inside or a cookie that's burnt to a crispin on the bottom. No one wants that.
Don't fuss over baking temperature too much. I'm with New York Times columnist and food critic, Mark Bittman on this one. Oven temperatures are all relative. Instead, try to decide if your treat needs low (like dehydrator treats), moderate (like many baked goods) or high heat (like roast meat treats) and go from there. It's more important to trust your snout and the visual colour of the treats to help guide your oven temp, than it is to pick the "exact" perfect temperature.
When at first you don't succeed, try, try again. You guys, if you could see the number of failed recipes I've thrown out, you would weep for me. For realz. Chances are you're going to make your share of duds. The best way to learn how ingredients work together is to get in the kitchen and take chances! get messy! make mistakes! (Ms. Frizzle was smart and stylish, amirite?). The average recipe I've shared on this blog goes through 3 or 4 revisions before I settle on the final one and I bake it handful of times to make sure it's consistent and tasty every time.
Creating recipes from scratch isn't for everyone, but man! That first success is so so sweet.
I really love what I do and I love that I get to share it with you guys. Kolchak and Felix love that they're constantly getting new snacks to try. (The specialty flour shop loves that I'm an easy mark and that they can see me coming. "Oh miss, we have a new flour in. Have you ever tried…". Just take my money.)
Hopefully, now that you've got a behind the scenes look at what goes into a recipe, you're dying to get into the kitchen and make something of your own! We hope you will – and we hope you'll share your creations with us. So tell me: Do you ever experiment in the kitchen?
Have you ever taken a recipe (doggy or human) and changed it to make it your own? How did it go?

This is a blog hop!  
Every week, we invite you to link up your Tastiest Post and Hop On to discover all sorts of new treats recipes, great giveaways and more!
To join in, follow your hosts, Kol's Notes &  Sugar the Golden Retriever, grab the badge from our sidebar and add your link to this week's hop!
Comments
comments