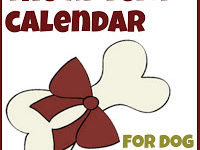 Welcome to the Advent Calendar for Dog Lovers hosted by Kol's Notes, Heart Like a Dog, My GBGV Life, My Brown Newfies & Bringing Up Bella.
Every day between now and December 24th, we'll be giving away great prizes – plus every time you enter to win a daily prize, you'll be entered to win our fabulous Grand Prize Package worth more than $800 featuring gifts from each of our 24 fantastic sponsors!
Today's sponsor is Freshpet!
It's no secret that Casa de Kolchak dogs are Freshpet fans. Their Dog Joy Turkey Bacon treats drive Kolchak wild. They once convinced me to undertake the crazy experiment of living without my fridge for a whole week (spoiler alert: It was awful and I don't recommend it). Their Freshpet Vital food rolls are a staple here. We love to chop them into bits and use them for training bait. They even make a bake-at-home dog cookie, so that you can give your dogs fresh baked treats, even if you're not a crazy dog baker like I am.
When I have Freshpet in my hand, I have my dogs undivided attention.
They love it because it tastes good, but let's face it, I am a million times pickier than they are. I have some pretty high standards for what they're allowed to eat. I like Freshpet because it's gently cooked, made in the US and/or Canada (with glowing hearts, yo!) and I can feel good that I'm giving my boys locally made, locally sourced products. I like that Freshpet is made with all natural ingredients and no preservatives (which is why you can only find it in the Freshpet fridge). I eat fresh food, why wouldn't I want to give my dogs the same thing?
My dogs deserve it and so do yours.
The Freshpet Elves have been hard at work making sure that this Christmas will be extra special for two lucky pups this year!
This month, Freshpet introduced a NEW fresh treat that they want Kol's Notes readers to be among the FIRST to try: the
Dog Joy Chicken Strips with Flaxseeds
! For our Advent Calendar for Dog Lovers, Freshpet is giving away their…
Sure to get your pup's tails wagging through the holidays, this package includes:
Yummy Freshpet Treats Made in the USA: Freshpet's NEW Dog Joy Chicken Strips with Flaxseeds, Dog Joy Turkey Bacon, Dog Joy Ready to Bake Cookies, Dognation Chicken Treats and Dognation Beef Treats
On-the-Go Freshpet Cooler: Now you can bring our pup or kitty's favorite Freshpet with you on the go with this collapsable cooler.
Freshpet T-Shirt: Fun, fresh t-shirts perfect for any pet lover, Freshpet set aside a few for Kol's Notes readers
Freshpet Coupons: Freshpet knows budgets can be tight around the holidays, so they've included some coupons for their recipes as well
Personalized Freshpet Stocking: Freshpet wants to make sure your pup has his/her own stocking to hang from the mantle, too. The perfect place for Santa to put your pup's gifts
Plus, they're adding an "All You Can Treat" package to amazing grand prize, along with a custom pet portrait, custom printed pet wrapping paper, a wine lover's gift set, a hand-crafted "I Love My Dog" necklace, a special gift basket full of goodies for you and your dog, a soft cotton leash & collar set, a gorgeous beaded bracelet with a paw and chef's hat charm, a designer dog bowl, a $35 gift certificate for awesome handmade dog toys & accessories, a gift set of moose antler chews & treats, a gorgeous glass pet bowl, a dog lovers t shirt, the Game of Life Dogs Edition, a gift pack of earth friendly poop bags, two virtually indestructible dog toys, a collar with a snazzy bow tie and a food puzzle treat toy! Don't forget! Every entry into today's giveaway is also an entry into our fabulous grand prize!
a Rafflecopter giveaway
 
Have you missed a few days of our Giveaway Advent Calendar? Don't fret – you can go back and enter any giveaways you have missed! Click here to see the Calendar and enter! Come back every day until Dec. 24th to find great new prizes.
**DISCLOSURE: The Advent Calendar for Dog Lovers is a sponsored event. Companies have paid for inclusion and are providing all prizes. All product information was provided by the brands. Any opinions are expressed are the 100% genuine opinion of this blogger and do not necessarily reflect the opinions of all the event hosts.
Comments
comments