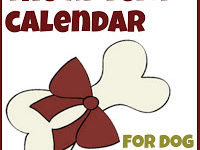 Welcome to the Advent Calendar for Dog Lovers hosted by Kol's Notes, Heart Like a Dog, My GBGV Life, My Brown Newfies & Bringing Up Bella.
Every day between now and December 24th, we'll be giving away great prizes – plus every time you enter to win a daily prize, you'll be entered to win our fabulous Grand Prize Package worth more than $800 featuring gifts from each of our 24 fantastic sponsors!
When I was a new blogger, I discovered this great little Etsy shop that sold handmade dog items. I immediately fell in love with the fun patterns and innovative ideas. I immediately fell in love with the leash bags.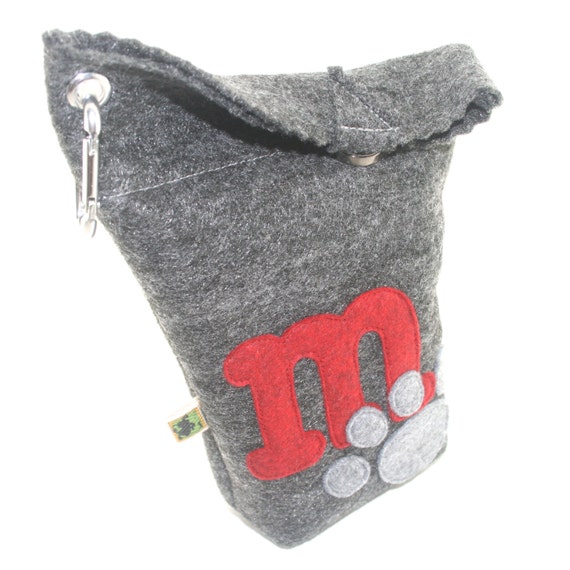 These handy little felt bags aren't just for carrying your clean bags, they're lined with vinyl for easy cleaning. They're big enough that after your dog has "made a deposit", if you catch my drift, you can pick it up with a regular poop bag, tie it shut and then hide it away inside the felt bag. I can't tell you how much I enjoy 
not 
carrying a bag of poop in my hand.
More than just the most awesome leash bags ever, Wags and Wiggles also makes a ton of super cute dog toys that are more stylish than the average stuffie. Made from designer fabrics, these toys will look like a fun part of the decor. She uses only cotton medium to heavy weight fabrics and all her toys are triple stitched for durability.  Since there are those dogs that can be a bit tougher on their toys, she offers an extra durable line of toys that have an extra layer of sewn in ripstop nylon. All toys are also machine washable.  If you're into cats, she only uses 100% organic catnip in her catnip toys. With so many choices, there's bound to be a toy and fabric that pups AND their humans will love.
Owner, Shawna, opened Wags and Wiggles in 2010. Over 2700 sales later, her Etsy shop boasts a 5 star customer feedback rating. Every item in the shop is designed and created in her Northern California work shop of one. Shawna handles everything, from the design of the toy right through to shipping, which allows her to make sure the quality is never compromised.
Toy maker to the stars
As a part of the Artisan Group, Wags and Wiggles toys have gotten into hands of some pretty awesome people. Shawna has had the chance to participate in various GBK Productions Awards Show Gifting Lounges and her items have been included in the celebrity swag bags for the Primetime Emmys, The Oscars, Golden Globes and the CMA Awards.  Toys and leash bags have also been gifted to several celebrities, a few have been Tori Spelling, Kaley Cuoco, Rachel Ray, Alison Sweeney, and Amanda Seyfried. (Mama's Note: Um? SQUEE! I'm fan girling out a bit here.)
 Today's winner will get to choose $35 worth of their favourite things from the Wags and Wiggles store.
Plus, we're adding a $35 Wags & Wiggles Gift Certificate to our amazeballs Grand Prize, along with a custom pet portrait, custom printed pet wrapping paper, a wine lover's gift set, a hand-crafted "I Love My Dog" necklace, a special gift basket full of goodies for you and your dog, a soft cotton leash & collar set, a gorgeous beaded bracelet with a paw and chef's hat charm and a designer dog bowl.
Have you missed a few days of our Giveaway Advent Calendar? Don't fret – you can go back and enter any giveaways you have missed! Click here to see the Calendar and enter! Come back every day until Dec. 24th to find great new prizes.
Kol's Note: The Advent Calendar for Dog Lovers is a sponsored event. Companies have paid for inclusion and are providing all prizes. All product information was provided by the brands. Any opinions are expressed are the 100% genuine opinion of this blogger and do not necessarily reflect the opinions of all the event hosts.
Comments
comments