As a member of the Etsy affiliate program and an Amazon Associate, I earn from qualifying purchases.
This weekend I roasted a sweet potato with no particular plan in mind.
I know, right? What kind of nut job just tosses a sweet potato in the oven for no particular reason? This one. Anytime I cook with a sweet potato, I know my dogs are going to be happy. They LOVE sweet potato. They each got a slice while it was still warm and then…I kind of forgot about the rest. WHOOPS! I'm such a cotton-headed ninny muggins. Still not 100% sure what I was going to do with them, I tossed them in the freezer for safe keeping. They totally would have been safe there, if I wasn't such a klutz. I managed to spill them everywhere and (of course) Koly took the opportunity to steal one and take off.
I found Koly on the far corner of the deck, hiding, as he chewed away quite merrily on the frozen slice of sweet potato.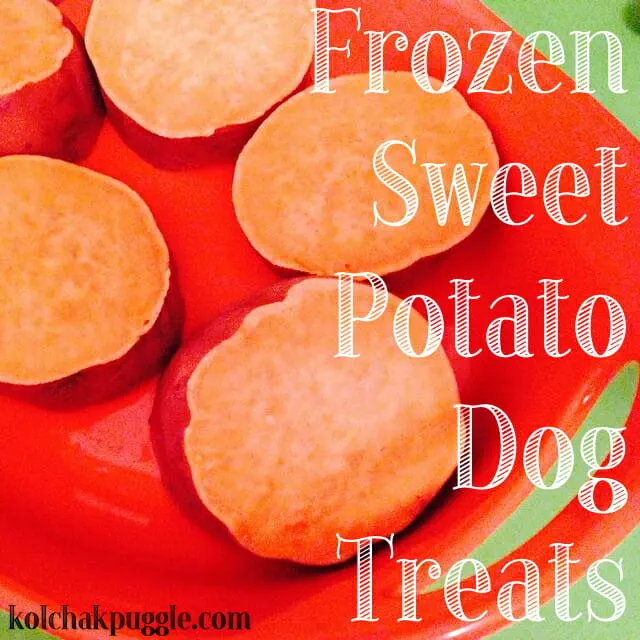 Koly and Fe are both loving these new snacks and I could resist kicking it up just a notch. After all, is it really a "recipe" if the steps are slice, bake, freeze and serve? Luckily, the "fancy" version is just as easy. Here's what you need:
1 large sweet potato
1/4 c. flavour booster, like peanut butter, meaty canned dog food, low fat cream cheese etc.
Wash sweet potatoes and trim off any green spots. Slice into 1/2″ slices. Place on a baking sheet and bake 30 -40 minutes, until cooked through, but still firm. Allow the sweet potato to cool and peel off the skins.
Spread a thin layer of flavour over the sweet potato. We chose peanut butter, but I'm pretty sure Koly would be all over canned food.
Place sweet potatoes in a single layer in the freezer. Leave over night or until frozen solid. Serve in a spot that you don't mind getting a bit messy.
Messy treats really are the best, aren't they?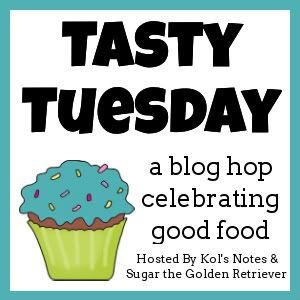 It's Tasty Tuesday!
To join in, follow your hosts, Kol's Notes & Sugar the Golden Retriever, grab the badge from our Tasty Tuesday page and add your link to this week's hop!