As a member of the Etsy affiliate program and an Amazon Associate, I earn from qualifying purchases.
There are some flavours that just embody the holidays for me.
Spicy, fragrant gingerbread. Cinnamon sugar. Starbucks Caramel Brulee Latte and After 8 Mints. There's something about the smell of mint and chocolate that makes me just feel festive and I would love to share it with my dogs, but chocolate is very dangerous for dogs. Even a small amount of good chocolate can make your dog very sick. (If your pet ever eats chocolate, you should check out this toxicity calculator and consult your vet for advice.)
Luckily, there is a dog friendly chocolate alternative: carob.
I hate carob. I think it tastes like unhappiness feels: bad. It's just so bitter and it lingers on your tongue like you've licked a toad or something. It's awful. My dogs absolutely, 110% adore carob dog treats though. They love them. Just the scent of a carob treat makes Koly move it! move it! like a monkey. You know what they say, "There's no accounting for taste."
Our newest dog treat recipe brings two great things together: Koly's favourite carob and my festive mint.
Since I can't share an After 8 chocolate with my pups, these dog friendly carob & mint minimature cake bones are totally the next best thing. This easy dog treat recipe was mixed up in less than 5 minutes, baked in less than 20 and cooled, then decorated in under an hour. Easy peasy and fancy enough that these would make a lovely gift for the dog lover in your life. Nothing says "I get you" like remembering to bring a gift for the dog, amirite?
Carob Mint Dog Treat Recipe
Ingredients:
Dog Bones
1/2 c. flour or Gluten Free Baking Mix
3 tbsp. carob powder
1 tsp. baking powder
1 egg
1/4 c. coconut oil
1/2 c. finely mashed, overripe banana
1 - 2 tbsp. fresh peppermint leaves, finely chopped
Icing
1/2 c. plain, unsweetened greek yogurt
1 tsp. alcohol free vanilla extract (I used clear to get a bright white colour)
several tbsp. tapioca starch (I used just over 4 tbsp)
Instructions
Preheat oven to 350F.
Prep 2 Hugs Pet Products Silicone dog treat pans. These don't need to be oiled or floured, they're perfectly non stick, just as they are.
Sift together flour, carob & baking powder.
Over low heat, melt the coconut oil. Remove from heat and whisk in finely mashed banana, chopped peppermint and egg.
Stir together the wet and dry ingredients. I find it easiest to put the batter in a piping bag and fill the dog bones that way, but if you've got a steady hand, you could absolutely spoon the batter in.
Fill each bone 2/3 full. You should have enough batter to make 24 bones using the Hugs Silicone Dog Treat Pans. I love these pans because the edges are braced with wire, making it really easy to move them around and get them in the oven without spilling batter everywhere.
Place trays in the oven and bake for 15 - 18 minutes, until a tooth pick comes out clean. Remove from the oven and allow to cool completely.
Mix together the yogurt and vanilla. Add tapioca starch, 1 tbsp. at a time until a thick "frosting" consistency is reached.
Spread or pipe icing onto treats. If desired, you can use a serrated knife to cut the dog bone treats in half and fill the centers with icing, whoopie pie style.
Store covered, in the fridge for up to a week. Store in an airtight container in the freezer for 60 - 90 days.
Welcome to Day 2 of the #Advent4Dogs Giveaway!
With the help of our festive co-hosts Dogthusiast, Heart Like a Dog, NEPA Pets, Wag'n'Woof Pets and Dizzy, the Kol's Notes elf, we're counting down to the holidays, sharing our tips and trick to survive 'em in crazy dog lady style and putting the wag in "swag" with 24 awesome giveaways and one Grand Prize package worth more than $1000 that will knock your stockings off.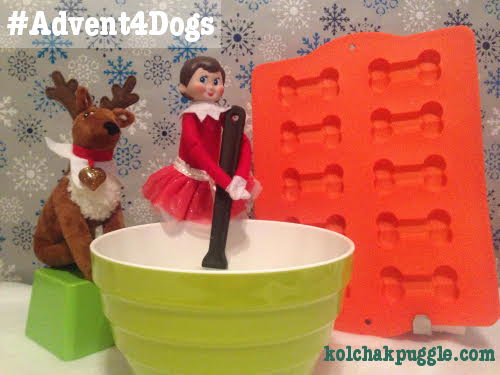 Today's Advent4Dogs Giveaway is sponsored by Hugs Pet Products.
Enter now for you chance to win one of our favourite Silicone Dog Treat Pans, plus a Chilly Mat, designed to help your hot dog keep cool.
To enter, complete the Giveaway Tools entry form and leave a comment telling us what kind of dog treats you will make in your new dog treat pan. (Get inspired by checking out our dog treat recipe index.)
Don't forget to share!
You can earn a bonus entry into this giveaway (and the Grand Prize draw) for every person that enters using your referral link.
Did you miss yesterday's giveaway from The Art of AJ? Click here to visit the Advent4Dogs giveaway page, check out any giveaways you might have missed and to check out all the sponsors for this great giveaway event.
What will you make in your Hugs Silicone Dog Treat Pan?
Want more great dog treat recipes? Check out the links below:
Every week, we invite you to link up your Tastiest Post and Hop On to discover all sorts of new treats recipes, great giveaways and
To take part, follow your hosts, Kol's Notes &  Sugar the Golden Retriever, grab the badge from our sidebar,  get the Linky code for your post, and add your link to this week's hop!
Comments
comments