Dogs love to eat meaty treats, but jerky and cookies can carry a whopping calorie count and they aren't great for pups who are watching their waistline. These easy to make dehydrator dog treats combine the low calorie health benefits of veggies with a taste of meat, to create a green bean chicken dog treat that your pup will love.
My puggle, Kolchak is a food hound.
(Actually, I usually call him a food something else, with some 18A rated language.) He will cut you and step over your limp body if he thinks it will get him closer to a snack. When something smells super delicious, there is *no way* to keep him from loosing his head. What can say? He's part beagle. These dogs are slaves to the snouts.
Snacks: All the cool dogs are doing it.
Actually, all the cool dogs are over-doing it. It's estimated that almost HALF the pet population is overweight. Time to lay off the Snausages (they are smelly and gross and full of junk anyways.) Still, I totally get it. Dogs love treats and we, as their people, love giving them treats. The secret is learning to give treats that they will love and you can feel good about.
Lean, Mean & Green
I know we have professed our bean-love before, but let me just say it again. Beans aredelish. We love fresh steamed green beans as a treat or green bean pupsicles as a cool treat on a hot day. Beans are full of awesome. Full. Beans are a great source of carotenoids and antioxidants, two things that are essential for kibble fed pups due to the highly oxidized nature of kibbles. Beans are also a rich source of dietary fibre, zea-xanthin, folates, vitamin B-6,thiamin, and vitamin C, as well as a great mineral source for iron, calcium, magnesium, manganese and potassium. They are also AWESOME for your waistline.
At only  34 calories per cup (*fresh) you can easily eat a bunch without packing on the pounds.
The only catch? They are just beans. My dogs really love meaty treats and getting them to eat dehydrated green beans without a kick of flavour can be a real challenge. That's why I decided to combine the power of chicken and green beans to make these easy dehydrator dog treats.
Meaty, Green Bean Dehydrator Dog Treats
Ingredients:
2 cups  frozen green beans, defrosted
1 cup  freeze dried chicken treats, like Purebites (<affiliate link)
*Kol's Note: You could actually use any kind of dried meat treat you like. Felix loves these made with duck or white fish due to his allergies.
These crunchy green beans treats can be made in the oven or in a countertop dehydrator. We like to make ours in our dehydrator because it is so easy to just pop them in there and forget about them. I always worries about leaving the oven on for this long.
OVEN: Preheat to 150F or get out your counter top dehydrator
In a small plastic bag, smash freeze dried treats.  Add the beans to the bag and Shake it Like Shake & Bake! Once the green bean pieces are coated with chicken, lay them out on a cookie sheet or in the counter top dehydrator. Allow beans to cook for 4 – 8 hours or until they are crunchy.
Store in an airtight container.
WELCOME TO THE TASTY TUESDAY BLOG HOP!
~hosted by Kol's Notes & Sugar the Golden Retriever~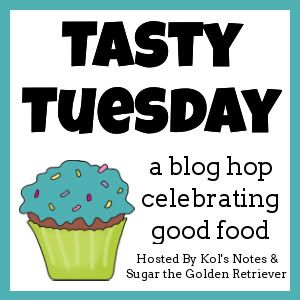 This is a blog hop! Every week, we invite you to link up your Tastiest Post and Hop On to discover all sorts of new treats recipes, great giveaways and more!
To join in, follow your hosts, Kol's Notes &  Sugar the Golden Retriever, grab the badge and add your link to this week's hop!
Comments
comments