If the weather man can be trusted (and let's face it, we all know he probably can't), it's going to be a scorcher this weekend.
Again. Like, we're talking unbearably hot. Melt into a puddle and try to keep your black dogs out of the sun hot. So, in preparation, I've been whipping up some cool treats.
Only this time, instead of canned food or crushed liver treats? This time, I wanted to make something I could eat too. This place has gone to the dogs! I'm sick of making all these treats I can't even taste. And this week's dairy-free blueberry & coconut frozen dog treat recipe? It's so good, I might not let the dogs eat a single bite.
Human Friendly Coconut Blueberry Frozen Dog Treat Recipe
Ingredients:
1 can coconut milk
1 1/2 c. blueberries
2 tbsp. honey
2 tbsp. lemon juice
1/2 tsp. guar gum or xanthan gum (a vegetable thickener)
Instructions
Toss the blueberries, coconut milk, blueberries, honey, lemon juice and vegetable thickener into a blender or food processor. Blend until almost, but not quite, smooth.
Pour into silicone cupcake liners, ice cube trays or popsicle moulds. Freeze.
If you use frozen blueberries, this makes SUCH a great lazy smoothie recipe or as a popsicle, they hold their freeze really well, so they don't drip everywhere.
Koly loves them. Fe loves them. I have eaten like a dozen or so. They're great and they're so healthy that I don't even have to feel bad about eating a ton of them.
Do you ever share frozen treats with your dog?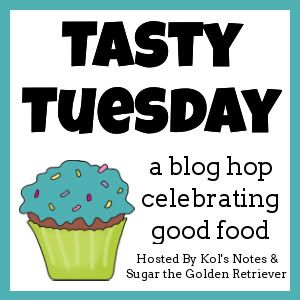 Every week, we invite you to link up your Tastiest Post and Hop On to discover all sorts of new treats recipes, great giveaways and more.
To take part, follow your hosts, Kol's Notes &  
Sugar the Golden Retriever
, grab the badge, get the code for your post, and add your link to this week's hop! What are you waiting for? HOP ON!
Comments
comments