We're back at the lake for a "stay-cation", so we're fishing one of our favourite easy dog treat recipes out of the archives. Four years after I first tossed together some leftovers into an ice cube tray as one of our very first frozen dog treats and they still remain a Casa de Kolchak favourite today.
---
OK, I don't want to jump the gun here, but maybe, possibly, there is a slight chance that it could be summer here in Vancouver. I don't wanna say anything just yet.  I would just hate to jinx it.
On Sunday, the Mama being either BRAVE or STUPID decided to throw caution to the wind and we headed for the lake.Now, you all know what happened last time, right? If not, head here to read the whole, horrible debacle. This time around though, we were very good. Very very good.  I'm pretty sure the Mama scared us straight after last time. So, on our best behavior, we and the Mama, surrounded by family & friends had a wonderful afternoon and a delightful barbecue.
The best part of any BBQ is the leftovers.



Whether we are expecting 9 for dinner or 19, the Mama makes the *exact same amount of food*. It's obscene. Tray after tray of veggies and dip, watermelon, chips and dips, salads, cakes, squares and oh my. There is always just so much food. All that means is more for Kolchak.
the Mama doesn't know it, but we eat pretty good at the BBQs. Auntie Ris sneaks us all the sweet peppers we can hold. Cousin Ambie fed us watermelons and the Old Man saved two tiny little potatoes just for us. After we had all eaten just as much as we could, there was still enough to feed an army. Always the creative one, Mama set about turning this into treats.
If summer is here, I want pupsicles! Nothing like a little frozen cheeseburger bite to make a puggle happy on a hot day. On a scale of 1 – 10, these are an 11 for awesome factor and a 1 for difficulty. Seriously. SO EASY.
Cheesy-Burger Pops
Oooooohhh
,
I love Chessey-Boogers! LOVE 'EM!
2 heaping tablespoons cooked ground beef (Mama crumbled up a leftover burger)
1 heaping teaspoon grated cheese
2 – 3 tablespoons low fat, low sodium chicken broth
Scoop 1/2 tsp of ground beef into each section of an ice cube tray.
Crumble a piece or two of grated cheese on top.
Pour chicken stock over ingredients.
Freeze.
*That's it* For real. It's almost too easy!
the finished product. DELISH!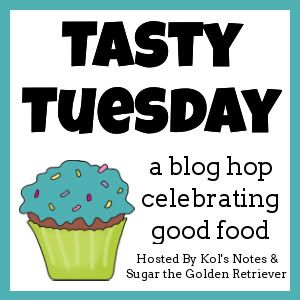 This is a blog hop!  
Every week, we invite you to link up your Tastiest Post and Hop On to discover all sorts of new treats recipes, great giveaways and more!
To join in, follow your hosts, Kol's Notes &  Sugar the Golden Retriever, grab the badge from our sidebar and add your link to this week's hop!
Comments
comments