As a member of the Etsy affiliate program and an Amazon Associate, I earn from qualifying purchases.
I am a huge fan of handmade pet products.
There is something about the idea that someone created something with their hands and that they poured their love and time into making it perfect that speaks to my dog loving hippie heart. Some of our favourite dog things were crafted by small businesses and artisans. By, as every Canadian knows, shopping handmade can be especially pricey. Shipping to Canada is…outrageous. Our dollar looks like monopoly money and currently holds about the same value.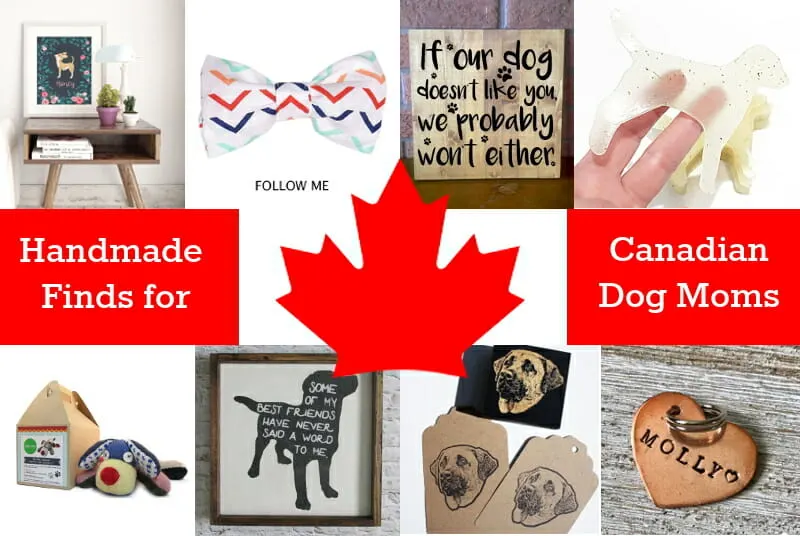 That's why I love that Etsy lets you filter for products that are MADE in Canada and why I am loving on their current Free Canadian Shipping promotion*.
*Participating shops only. terms & conditions may apply.
---
This post contains affiliate links. If you make a purchase, Kol's Notes will earn a small commission, but the order will not cost you anything extra. Your support allows us to buy craft supplies, fancy flours and other essentials to keep sharing Dog-centric DIY and crafts. Your support means so much to us.
---
You guys, I spent over two hours browsing Etsy this morning, trying to make this a cute list post like "7 fun finds for dog moms" or "11 DIY Dog Projects You'd rather buy on Etsy" and frankly, it was too hard to nail it down to just a few products and shops. So instead, you're getting this: 76 Things I wish I could order RIGHT NOW. Each and every one is handmade and they all qualify for free Canadian shipping between now and May 14, 2018. So, you know, Mother's Day is a perfect excuse to peruse the selection and buy some pretty things, amiright?! Plus, these are just my faves, there are literally hundreds of items that qualify in every category. Shop the Oh Canada! Etsy Free Shipping event to see them ALL.
*PSSSSST* Click on any image to be magically whisked to Etsy for more details and pricing.
Pet Portraits & Art
DIY for Dog Moms
Jewelry for Dog Lovers


Canine Accessories
Dog-Friendly Home
Dog Planner Stickers
I need to stop. There is $974 worth of good in my cart and I need to cut that by like 94% before I check out. I just get so excited about fun, unique dog products that you just don't find at the local chain pet stores. I want to see what you love.
Shop the Etsy Canadian Free Shipping sale and toss a link to something you love in the comments.