Felix is a senior dog.
And if we're being honest, that is one of my least favourite sentences I have ever typed.
When we brought this amazing ball of fluff home over a decade ago, I never gave a second thought to the future. I imagined us going on, as we were, forever. For a long time, he supported this notion by being like the energizer bunny.  That changed a few months ago. My sweet boy who had seemed a perpetual puppy noticeably slowed down. Walks were slower. Health issues started creeping up. Just like that, it felt like our happy carefree life together had been compromised.
In my heart, it feels like there was never a time before Felix. It's like he's always been here, filling up my heart and my spot on the bed. Pawing at me for snuggles and demanding snacks. He is my constant and I have a hard time acknowledging that eventually – probably sooner than later – there will have to be a time after Felix. It can be hard to know what to do when you realize your days left with your heart dog are finite. It's almost like you start going through the 7 stages of grief immediately and if you can't pull yourself out of it, you might lose sight of the most important thing when it comes to senior dogs: Quality of Life.
If you follow us on Instagram, you might have noticed it's been a little Felix-heavy lately.
This is not by accident. I've been firmly entrenched in the denial stage of grief. "My dog is fine! He's young and full of life! Look at all the fun things he's doing!" And that is true, Every single picture has shown Felix living his best life, enjoying the things that make him furiously happy and making the most of every single day. What the pictures haven't shown is that he not as young as he once was.  I've been focused on creating and capturing as many of his happy moments as I possibly can. The dog that I described as "spry" at 14 is showing his age. 15 has been a challenging year.
Injuries can be a sad fact of life with a senior dog.
And the fact is, for a while now, Felix has been grappling with back issues. It all started with a limp. He's 15 and he's had not one, but two torn CCLs, so at first, the limp was dismissed as arthritis setting in; something we knew was likely going to affect him eventually. But the limp got worse. He started occasionally knuckling under and tripping himself when he tried to move too quickly. His stance started closing in the back and we noticed he was losing muscle tone. We consulted the vet and started doing some physical therapy. He got a bit better, but as long as he was happy, I didn't worry too much.
And then one day, he simply couldn't bear weight on his hind legs anymore. We'd stand him up and his hind end would just slide out from under him.
We thought the worst.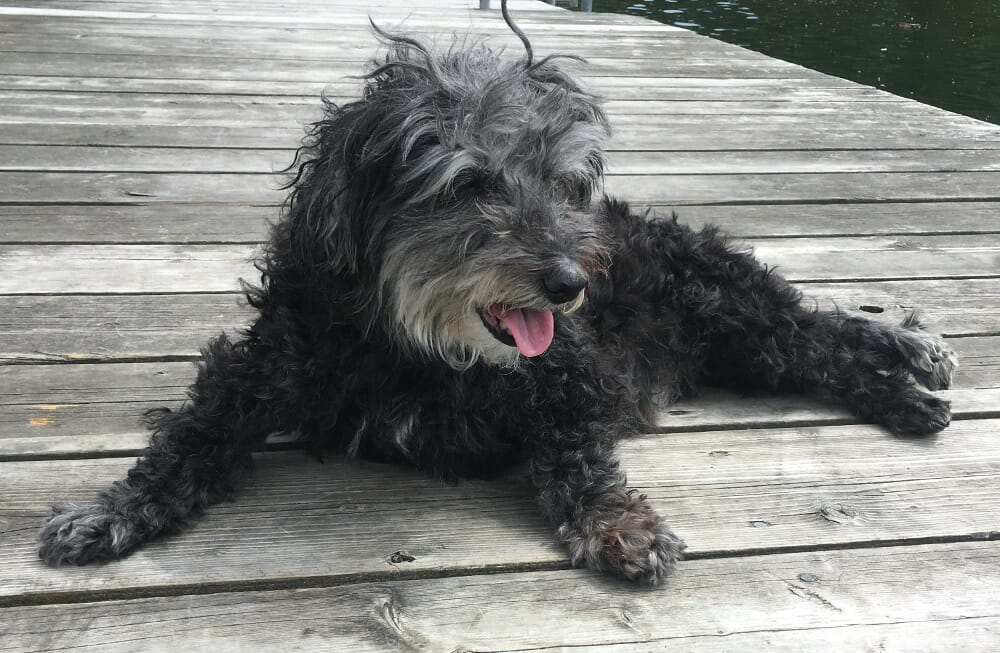 On the Monday before BlogPaws, we visited the vet, expecting to say goodbye. We did a lot of tests and looked at a lot of options. In the end, the tests didn't find much of merit. There's no injury to back, no sign of disc breakdown & no flinch point where he shows signs of pain and yet, the fact remains, he had lost the use of his hind end.
Anti-inflammatories and crate rest were the prescriptions. They helped. Here we are, after 6 weeks of crate rest and things are a bit better. This sweet boy's hind end is weight bearing. He can walk, albeit labored and clumsy. Some days are better than others. At his best, he's a happy go lucky boy who is happy to walk a block or so. At his worst, he walks a few steps before stopping for a break.
Quantity of life is still there. Quality of Life? That's the real question.
Is he happy? Is he comfortable? Am I keeping him here because I desperately need him and not because it's the best thing for him? In talking to the Daddy and several people who have traveled the path of letting go of a senior pet, for me, one thing is clear: I'd rather let him go a month too soon than a single second too late. That day is coming, probably faster than I want it to but, until then, we've been doing all we can to give him the best possible Quality of Life.
… [read more]