As a member of the Etsy affiliate program and an Amazon Associate, I earn from qualifying purchases.
It's New Year! Heeeeelllo 2013!
It's time to ring in the New Year all proper & stuff! Did you celebrate in style last night? I .. um… yeah. I did not. Benny & Lily might have gotten all gussied up and went out, but here at Casa de Kolchak? We went low-key.
No New Years Eve Party, but that's OK, because today? Today Mama is promising to make Seaweed Bones.
It's a New Years tradition to eat green foods, you know. It is said that since green is the colour of money, eating green foods at New Years is supposed to bring you wealth throughout the year. Well, that might be true in the US, but
here in Canada, the money is monopoly colours
. Only the $20s are green. I don't want $20s. I want $100s. They're brown. I think me and all the other Canadians should make
Easy Peasy Canned Food Cookies
and call it a day.
However, if you happen to live where the money is green, then you should make Seaweed Bones.
These green cookies are tasty and a fun way to ring in the New Year! Here's what you need:Seaweed Bone Dog Treats
3 c. green pea flour
1/2 c. canned whitefish in water, drained

1/2 c. mashed or pureed peas
1/4 c. dried parsley
1 tbsp. seaweed powder
1 egg
Water, as needed
Preheat oven to 300F.
In a medium bowl, stir together pea flour, parsley & seaweed powder.
Use a fork to separate the fish into teensy tiny pieces (or toss it in the food processor.) In separate bowl, thoroughly mix fish pieces, mashed peas, and egg.
Pour the wet ingredients into the dry and stir well, adding water as needed to make a stiff dough.
Turn out the dough onto the counter and roll to ~1/4″ thick. Use a dog bone cookie cutter (or any cutter) to cut cookies.
Place on a parchment lined baking sheet and bake for 45 – 55 minutes. If desired, turn off the oven and leave overnight for a crunchy cookie.
(Psssst – thank you to Melody at All Natural Pet Care for the suggestion to use seaweed to make green cookies! We used to use spinach (like in our Pea & Spinach Treats, but this looked much nicer!) You can buy Canadian Seaweed Powder over at their website.)
Happy New Year, my friends! Do you have any New Years traditions at your house?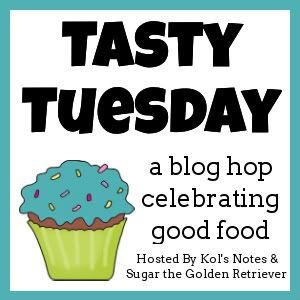 This is a blog hop!
Every week, we invite you to link up your Tastiest Post and Hop On to discover all sorts of new treats recipes, great giveaways and more!
To join in, follow your hosts, Kol's Notes & Sugar the Golden Retriever, grab the badge from our sidebar and add your link to this week's hop!
All posts are the property of Kolchak's Kitchen and Kolchak Puggle/Jodi Chick. Please ask before reposting content. All reposts must link back to our site. Thank you!