As a member of the Etsy affiliate program and an Amazon Associate, I earn from qualifying purchases.
So I bet things are getting pretty crazy 'round your house, eh?
Things are NUTS at Casa de Kolchak. the Mama is running around like a chicken with her head cut off. There is ribbon every where. She has lists of list of lists. She's a mess.
She didn't even bake me treats this weekend.
::gasp:: I know, right? What the woof, Mama? I was not impressed. mean, sure, I need treats, but what about Tasty Tuesday, Mama? Did you think of that? I guess not, eh?
They offered to share one of their tasty treat with us and oh my woof do they look good!
We're making Quinoa & Pumpkin Dog Treats!
Mama loves baking with quinoa. Even though it's often referred to as an "ancient grain", this tasty food is actually a seed and it's fantastic to use n grain-free dog treats.
Want to try this recipe? ( I know I do!) Here's what you need:
3 T flax seed (or a flax/chia seed combo)
4 C prepared quinoa (cooled)
1 large can of pumpkin purée (or homemade if pumpkins are in season)
1.
Place flax seed meal in 1 C water. Stir and let sit 5 minutes to form a gel.
2.
Stir mixture and add other ingredients.
3.
Spread into silicone baking trays. I like the Wilton Brownie Bites, but other sizes and shapes are possible.
4.
Bake at 350
°
for 40 minutes. You may serve them soft, but their shelf life is short. If you'd like to extend their shelf-life, place in a dehydrator until crunchy.
I bet this recipe would work just as well and taste just as good with canned sweet potato too! Yum!
Are you looking for tasty treats?
Green Lakes Barkery specializes in tasty organic treats for your furry friends. Find them at the Shoppingtown Mall in DeWitt, NY or online at
greenlakesbarkery.com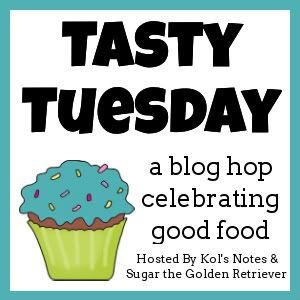 This is a blog hop!
Every week, we invite you to link up your Tastiest Post and Hop On to discover all sorts of new treats recipes, great giveaways and more!
To join in, follow your hosts, Kol's Notes & Sugar the Golden Retriever, grab the badge from our sidebar and add your link to this week's hop!
All posts are the property of Kolchak's Kitchen and Kolchak Puggle/Jodi Chick. Please ask before reposting content. All reposts must link back to our site. Thank you!