As a member of the Etsy affiliate program and an Amazon Associate, I earn from qualifying purchases.
I spent all last week at the SuperZoo discovering a ton of tasty new treats.
Much to Kol's delight, but she came home with a suitcase full of things for him and Fe to try and taste and see what they think of. Already one treat has proven above and beyond to be a Casa de Kolchak favourite. We're going to tell you all about those in a few weeks.
Ever since we've been staying in an apartment, I've been making Kongs.
Lots of Kongs. Despite the fact that we're walking two to three hours a day, Kol still seems to be just full of boundless energy. We've been using Kongs and other treat toys to try to keep him busy, to keep him entertained and most of all, to keep him quiet. He can't be Mr. Barky McGee all up in an apartment, yo. Since he's super food motivated, these seem to be doing the trick. The only problem is that he loses interest fast. We can't use the same recipe a few days in a row or he gives me a look like "Um…this again? Seriously? I'm pretty sure you can do better."
Challenge Accepted, puggle.
I decided to take some of the tastiest things I brought home from my trip and make a SuperKong of Deliciousness. It did not disappoint. Koly laid down for a full hour destuffing this Kong o' Happiness. I love the idea of using freeze dried or dehydrated dog food to stuff a Kong for a lot of reasons.
1. Since the food is nutritionally balanced, it's a much healthier stuffed treat than something stuffed with peanut butter or liver alone.
2. Freeze-dried and Dehydrated Dog food is so easy to store! It can be bought and used a little at a time, unlike canned food which spoils within a day or two of opening it.
3. Endless flavour combinations and lots of grain free options. There are lots of brands out there – some of our favourites are The Honest Kitchen, Grandma Lucy's and Addiction. Between those brands I have an endless sources of proteins and base ingredients, which means Kol doesn't get bored.
Do you want to try stuffing a Kong with Freeze-Dried or Dehydrated Dog food?
Here's what you need:
freeze dried or dehydrated dog food in your dog's favourite flavour (We used a Grandma Lucy's Artisan Freeze Dried sample that we received at Superzoo)
plain canned pumpkin (or baked squash or puree carrots or any other veggie purree you like)
A Natural Meat Chew, like the new Prairie Dog Treats Beef Sticks
Mix the dry food with half the water intended. Replace the remaining water with canned pumpkin. (For example, I mixed 1 c. of Grandma Lucy's with 3/4 c. water and 3/4 c. pumpkin). Using pumpkin instead of water gives it a thicker texture, perfect for stuffing.
Half fill the Kong, so it's well packed. Trim the beef stick so it's only an inch longer than the Kong and position inside. Fill the Kong to just less than totally full and freeze until solid. Top up the remaining space with a bit of the unfrozen mix. (Koly likes an immediate reward.)
Frozen Kongs are harder to destuff! If your dog is less motivated to finish this Kong, you can reduce the water a bit and serve it unfrozen. It's easier to destuff and might hold your dog's interest longer. If you're dog isn't into Kongs, you can try this with any other treat toy, a trachea chew or even an empty center bone. (Though, we do not personally use weight bearing bones with the Casa de Kolchak dogs after an expensive tooth breaking incident, thankyouverymuch Felx.)
I like that this Kong is made mostly with food that is nutritionally complete, so I don't feel as bad that he's getting it often and stuffed totally full. Kol likes that it's meaty and delicious.
What does your dog like in their Kong?
______________________________________________________________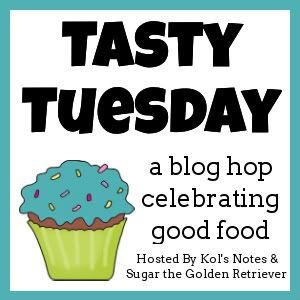 It's Tasty Tuesday!
To join in, follow your hosts, Kol's Notes & Sugar the Golden Retriever, grab the badge from our Tasty Tuesday page and add your link to this week's hop!