As a member of the Etsy affiliate program and an Amazon Associate, I earn from qualifying purchases.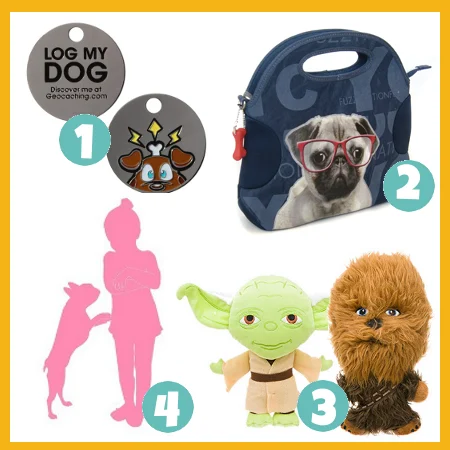 It's Fetch Friday!
Mama has been shopping up a storm in preparation for our new digs and with all that time she's spending focusing on HER, we're not getting much of anything. I had to remind her just who is in charge around here. She can make it up to me by getting me my own Chewbacca.
Here's what we're loving this week:
Geocaching is a fun way to get out and active with your dog. Make your dog trackable with this fun new Log My Dog tag. They are fully trackable at Geocaching.com, each with a unique tracking number so you can follow and commemorate your dog's travels.
Is there anything more adorable than a hipster pug? I think not. Storing your lunch in this pug lunch bag is approximately 1000 times safer than storing it near a REAL pug.
"Buy the toys, you must." Holy woof, want want want to be having! I'm loving this Chewbacca toys, Mama is all googley eyed over Yoda and Daddy and Fe want Boba Fett. It is TOTALLY time to get these orders.
How cool is this? This lovely Etsy shop takes one of your own photos and create a custom silhouette. It's cut out of vinyl and can be used as a wall decal, a fridge decal, or anywhere your heart desires. I love it. (Thanks to Jill for pointing out I missed the description on this piece, so I could come back and update it!)
That's it folks! Mama better get her tail back to work!
She has a lot to do to make sure my new house is ready for me. Everything better be perfect Mama. A chewbacca toy on the couch would be a good start.