As a member of the Etsy affiliate program and an Amazon Associate, I earn from qualifying purchases.
Mama has been busy as woof with this whole "moving" thing. I'm getting more than a little disgruntled that she is frankly, neglecting us. Our walks have been reduced to a paltry 2 – 3 hours per day, our meals are being served raw and Mama hasn't baked me treats in DAYS. **in days** What is the Canine equivalent of Zenith 1-2-3. I need to call those people. Someone needs to talk some sense into Mama, quick!
Good thing someone is doing something around here. Cristina from Cristina's Dog Treats was kind enough to save Mama's tail share one of her tasty recipes with us. These sound absolutely drool worthy. What do you think?
* * *
Pom-Apple Dog Treat Recipe
Ingredients:
1 cup blended pineapple
1/4 cup pomegranate juie
1 tbsp honey
1 tbsp flaxseed meal
1 1/2 cups tapioca flour
2 1/2 cups garbanzo bean flour
Instructions
Preheat oven to 350F.
Mix the pineapple, pomegranate, honey and flax seed together.
Add tapioca flour and mix well.
Slowly add garbanzo bean flour (if dry, add a little more pom. juice)
Dough will be slightly sticky, so knead and roll out on a floured surface.
Roll dough to 1/4" thickness and cut into desired shapes.
Bake for 12-18 minutes.
if you'd like them crunchy turn off oven and let cool inside.
Thank you so much to Cristina for sharing here tasty treats for Tasty Tuesday! We'll be back next week with something yummy – we promise!
__________________________________________________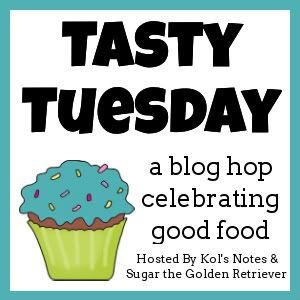 It's Tasty Tuesday!
To join in, follow your hosts, Kol's Notes & Sugar the Golden Retriever, grab the badge from our Tasty Tuesday page and add your link to this week's hop!