As a member of the Etsy affiliate program and an Amazon Associate, I earn from qualifying purchases.
The Mama spent forgot to make me cookies again this weekend.
The closest Mama came to the kitchen was making human dinner. What the woof, right? Where does that woman think she gets off making human treats? I know she's go her tail in a tither about this moving apartments business, but that is no excuse for neglecting her canine baking duties.
I ordered her butt back into the kitchen to make something tasty we could share with you guys.
She's lucky she came up with something good:
Aaaaaawwwww yeah!
They were super easy to make and they smelly chickeny and cheesy and delicious. Do you want to give them a try?
Chicken & Cheddar Dog Biscuit Recipe
Ingredients:
3 1/3 c. gluten-free baking mix (We used the Red Mill All Purpose Mix)
2 tbsp. dried basil
2 tbsp. dried oregano
1 tsp. baking powder
2 eggs
1 c. chicken stock (or water)
2 tbsp. extra virgin olive oil
2 c. cooked ground chicken
1 c. shredded cheddar cheese
Instructions
Preheat oven to 350F. Line baking sheets with parchment paper.
In a large bowl, stir together 2 c. of flour, basil, oregano and baking powder. Add the stock, eggs and olive oil. Mix well. Stir in cooked ground chicken and shredded cheese. Stir in remaining flour, a little at a time, until you have formed a stiff dough.
Roll out to 1/4″ – 3/8″ thick. Cut into shapes using a dog bone cookie cutter (or squares using a pizza cutter or knife).
Bake for 25 – 30 minutes, until golden brown. Flip over and bake for an additional 10 minutes.
Allow to cool completely before storing them in an airtight container.
Remember Pups, since these are real meat & cheese treats, they should be stored in the refrigerator for up to a week or in the freezer for up to three months.
Bone Appetit!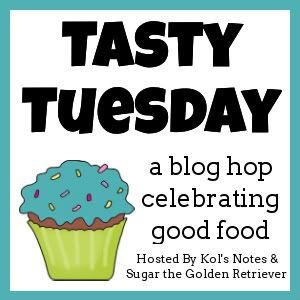 This is a blog hop!
Every week, we invite you to link up your Tastiest Post and Hop On to discover all sorts of new treats recipes, great giveaways and more!
To join in, follow your hosts, Kol's Notes & Sugar the Golden Retriever, grab the badge from our sidebar and add your link to this week's hop!