As a member of the Etsy affiliate program and an Amazon Associate, I earn from qualifying purchases.
'Round these parts, sharing food with the dogs is pretty much standard.
Most of my meals are made with the idea of sharing in mind. I mean, when you get this face any time you make something and Kolchak doesn't get a taste, you get pretty motivated to make food you can safely share. As a side bonus, this means I cook a lot healthier than I used to. When you're cooking dog friendly food, you have to leave out a lot of fats, sugars and other things.
I've been reading a lot of Paleo food blogs lately. Not because I want to embrace the Paleo way of eating completely. (I love cheese, ice cream, peanut butter, granola and potatoes WAY too much to goo 100% Paleo.)
I've been reading Paleo recipes because a lot of them happen to also be dog-friendly.
When I came across this ridiculously simple recipe for Banana Pancakes from Not Quite Nigella, I knew I had to try them. They do not disappoint. While they definitely don't have that fulfilling grainy bite of a traditional pancake, they have this great sweet, eggy flavour all of their own that I really enjoy.
Still, as delicious as they were, they were a little flimsier than I like personally. I knew that one simple addition would give them a bit firmer texture that I would love.
Dog Friendly Banana Pancakes
2 Bananas (I used ones that were brown & mucky)
2 eggs
1 generous dash of cinnamon
2 tbsp. coconut flour
coconut oil, for frying
In a medium bowl, smash up the banana and egg. Lorraine from Not Quite Nigella prefers to put her bananas in a food processor, but not me. I like to Take Chances! Make Mistakes! Get Messy! so I got in there with my hands and squished 'em until all the chunks were gone. (What can I say? I'm a six year old at heart!). Stir in cinnamon and coconut flour. Allow batter to sit for 2 – 3 minutes while the coconut flour rehydrates.
Heat a nonstick pan or griddle and liberally baste with coconut oil. (These stick like a bear if you're not careful.) Scoop generous spoonfuls of batter onto the pan. Wait until bubbles appear in the centre. (This is going to take WAY longer than you think it will…or maybe I'm just impatient.) Carefully flip the pancakes (They're still just a scootch flimsier than your standard pancake, so treat 'em with care.) Let side B cook until it's golden brown.
I chose to serve ours with baked pears. (Super easy! Dice 'em up, toss 'em in the oven and bake at 400F until they're juicy and delicious).
Do you ever share pancakes with your dogs? Do they like them?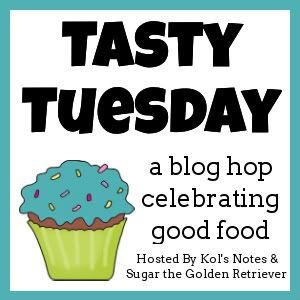 This is a blog hop!
Every week, we invite you to link up your Tastiest Post and Hop On to discover all sorts of new treats recipes, great giveaways and more!
To join in, follow your hosts, Kol's Notes & Sugar the Golden Retriever, grab the badge from our sidebar and add your link to this week's hop!