As a member of the Etsy affiliate program and an Amazon Associate, I earn from qualifying purchases.
I like to give my dogs the best of everything.
They have expensive brain teasing puzzles out the wazoo, tons of toys, cozy beds a woof load of blankies and these dogs eat like Sultans. No seriously, they eat better than I do. Pretty much everything around Casa de Kolchak revolves around their furry little butts. They want for nothing.
I want to give them everything they might ever want, but quality is expensive, yo!
As much as I love my dogs and as good as it makes me feel to offer them the best, sometimes, just a little, I long for the good old days when I had no idea what I was doing. When a month's worth of treats cost less than $3 and my disposable income wasn't spent at the pet store, but rather on totally necessary, essential items (like designer bags, stiletto heels, and jewelry).
I know that feeding your pet the best quality diet you can afford is one of the best things you could ever do for their health, so I do. That means that sometimes I have to cut corners in other places.
Yesterday, I talked about how some of my dog's favourite treats are the stinkiest (and how I store smelly dog treats). What I didn't talk about was how these super smelly treats are actually some of the easiest, cheapest, and best treats you can make for your dogs.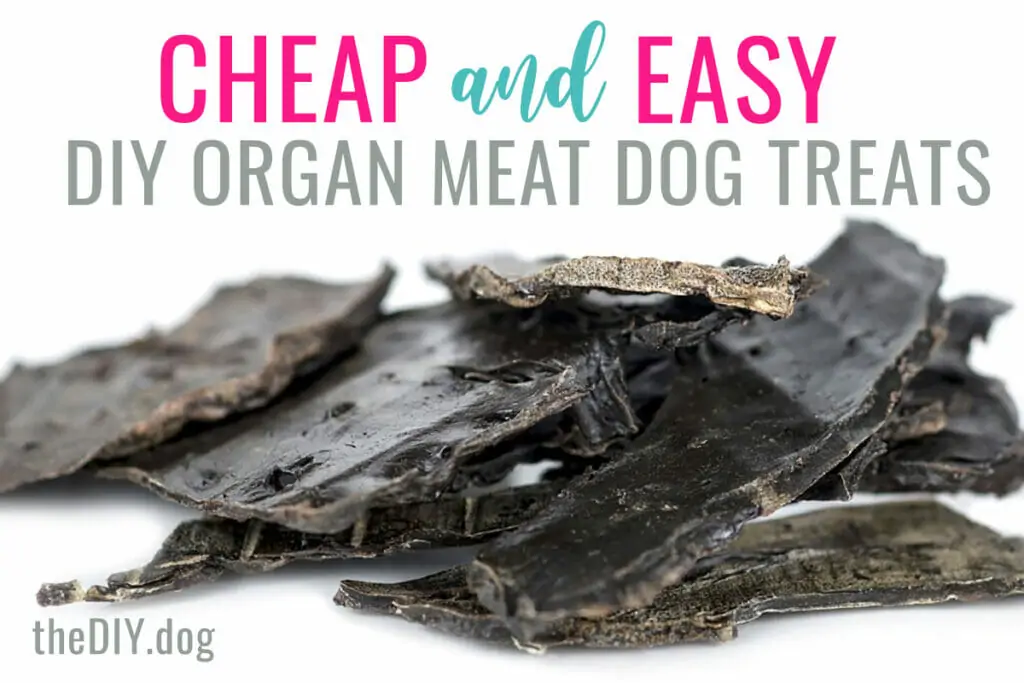 It's SO EASY to make meaty dog treats from organ meats like heart, liver, or lung. These meats are exactly the kind of stuff most humans want to serve on the dinner table, so they have the benefit of being really affordable. At my local butcher, I can get chicken liver for less than $2/lb, beef heart for about $2.50/lb, and lamb's lung is usually super cheap too (though harder to find).

The great thing about making your own treats is that you can make them in a protein that works for your dog. Chicken, beef, and lamb will be the easiest to find, but my butcher has been great and they've ordered me bison liver, elk heart (holy the thing was huge), and quail livers (holy woof those were small).
Organ meat is also a really healthy treat to feed your dog.
It's chock full of nutrients and dehydration is considered a gentle method of cooking, so you maintain much of the nutritional value. However, be cautious. Due to the high levels of vitamins and nutrients in these meats, you should never feed them in excess of 5% of your dog's total diet. These are treats, not a dietary supplement!
Want to make your dog some cheap and easy DIY organ meat dog treats?
Here's how:
You can make two kinds of organ meat treats: the light, crumbly ones (kind of like Purebites) or the hard, glossy ones (kind of like HeroDog Treats).
While I've made heart and liver treats both way, Koly and Fe both prefer lung treats made with the first, pre-cook method.
If your dog loves a really crunchy treat or if you want something that won't come apart in your pocket, then the dark, glossy treats are the way to go.
Want a hot tip? I don't call these the "smelly treats" for nothing! I like to plug my dehydrator in out on the deck, so that the smell doesn't get all up in the house…and my hair.
Healthy, delicious dog treats don't have to take the bank. All it takes is a little work, a little patience, and bit of love.
Have you ever made organ meat treats? Do you have any tips and tricks to share?