As a member of the Etsy affiliate program and an Amazon Associate, I earn from qualifying purchases.
This carrot and apple pupcake is topped with flavourful cheddar for the perfect healthy and delicious cheese dog treat recipe. These are a great, treat for birthdays, special occasions or even just every day spoiling!
Last week, after talking about it with the Facebook crowd, I set out to make a carrot & apple dog treat.
I played with it for two days and when I was done, it hit me. I was *sure* I had made that recipe before! I dug through the archives a bit and realized that I was right. I *had* made carrot & apple pupcakes before. While my two recipes weren't identical, they were similar enough that I decided to abandon ship on the new one and share an old favourite instead.
Now, I would *love* to share a pretty picture with you, except that I'm a goon and all the pupcakes were given away to dog in our building before I remembered that I needed a picture. *duh*
Gluten-Free Carrot Apple Pupcakes with Cheese Dog Treat recipe
Cheesy Carrot Apple Pupcake Dog Treat Recipe
Ingredients:
3 cups Red Mill Gluten Free Baking Mix or All Purpose Flour
1 cup flax seeds
1/4 teaspoon cinnamon
1 tablespoon baking powder
1/2 cup sugar free apple sauce
2 carrots
2 Tablespoons honey
2 1/2 cups water
1 egg
2 apples - cored, peeled & sliced
3/4 cup sharp cheddar cheese (or any cheddar cheese)
*optional: coconut oil for greasing
Instructions
Preheat oven to 350F.
Use a hand grater or a food processor to shred the carrots. In a medium bowl, combine carrot, apple sauce, honey, and water. Mix well. Add egg and mix just enough to evenly distribute egg (do not over mix).
Crush flax seeds with a rolling pin or with a quick spin in the food processor.
Combine dry ingredients in a large bowl and create a well in the centre. Pour wet mix into the well. Mix ingredients well, scraping the sides to ensure all of the dry ingredients are incorporated.
I prefer to use silicone muffin moulds as they do not stick, but if you are going to use metal tins, grease them with coconut oil first. Do not use muffin cups as they stick to these cupcakes like glue.
Fill muffin trays 3/4 full. Place an apple slice on top of each pupcake.
Bake at 350F for approximately 30 minutes. Open over and sprinkle cheese over muffins. Return to over and bake for 30 more minutes, or until a toothpick comes out clean.
Kol's Note: Did you make too many pupcakes to eat before they spoil? Slice them thinly, lay them out on baking sheets and bake them for 3 – 6 hours on your oven's lowest setting until they are crunchy and dry all the way through for a great DIY Dog treat.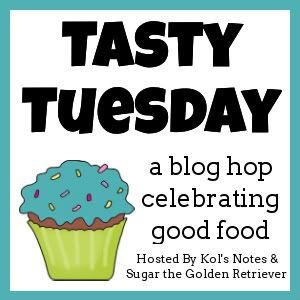 This is a blog hop!  
Every week, we invite you to link up your Tastiest Post and Hop On to discover all sorts of new treats recipes, great giveaways and more!
To join in, follow your hosts, Kol's Notes &  Sugar the Golden Retriever, grab the badge from our sidebar and add your link to this week's hop!