As a member of the Etsy affiliate program and an Amazon Associate, I earn from qualifying purchases.
You guys, I am SO excited! Today is my first ever Tasty Tuesday where I have made a treat that is 110%, absolutely NOT for dogs.
Today, I am making chocolate cake. As I am sure you all know, chocolate is toxic to dogs. Even a fairly small amount of a good chocolate could make your dog very sick. This one is strictly for HUMANS ONLY.
Did y'all know that according to CDC, more babies are born in August and September than any other months?
Crazy right? I'm sure it has absolutely nothing to do with the number of snow and ice storms in November and december, right? Vaguely related to that factoid, pretty soon, one of my BFFs is gonna have a baby and since I'm too far away to celebrate with her, I wanted to plan a welcoming party of my own, plus ya know, any excuse for cake, right?
If it was up to me, that baby would be getting a whole Puppy Party to celebrate his arrival.
How much fun would that be?! I would love to throw an entire puppy theme party. Fire hydrant decorations, paw print balloons, hot dogs! (ha, ha, get it? GET IT?) We would play games that use frisbees and tennis balls. Maybe "pin the puppy on the dog house"?
And the piece de resistance on all this fun? This ridiculously easy dog bowl cake: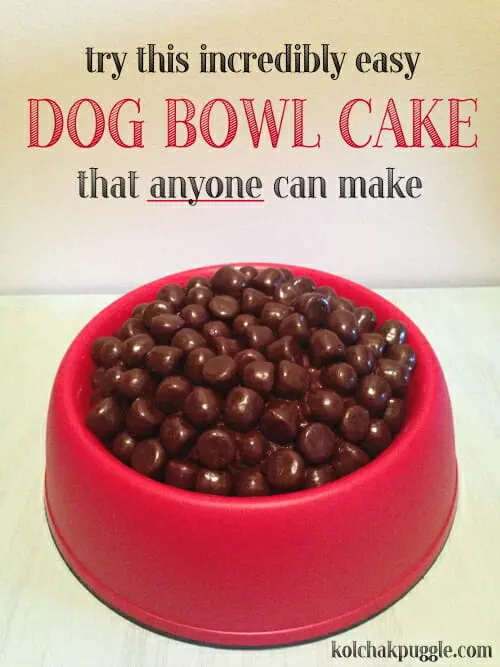 Um, I know I'm kind of biased because I
made it
and all, you guys, but if that isn't the cutest thing ever, I don't know what is and it was
so woofing easy.
I mean, I know making cakes that look like dog bowls isn't exactly a new idea and I have been
oogling creations like this one
forever. The only problem? Like 99% of the home bakers out there, I'm not exactly the best at colouring, rolling and covering cakes in fondant. Plus, have you ever tasted that stuff? There had to be an easier, tastier way. Guess what? There TOTALLY IS. The Kol's Notes Dowg Bowl birthday cake is SO EASY even the most inexperienced baker could make it look fab. In fact, it's a great project for kids who want to have some fun in the kitchen. Here's what you need: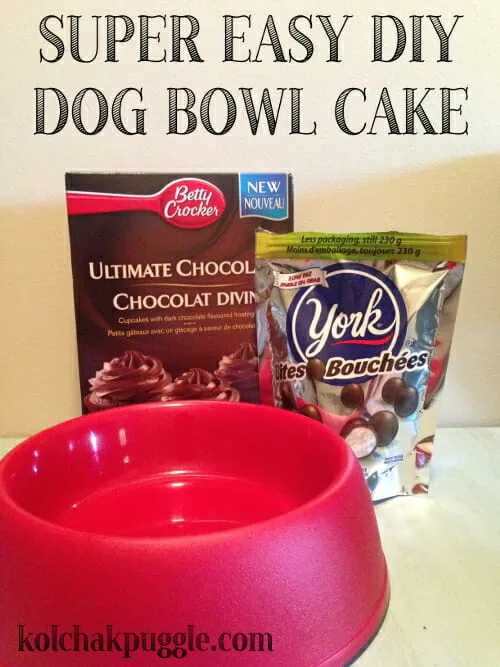 *Just another reminder, for those who are just joining us or anyone who forgot (pay attention!). This cake is for HUMANS only. Never feed your dog anything with chocolate in it, eh.*
INGREDIENTS:
1 box of Betty Crocker Ultimate Chocolate Cupcakes (The kind with the frosting right in the package)
– makes the equivalent of 12 cupcakes
1 egg
4 tbsp. vegetable or coconut oil
2/3 c. water
1 bag of York Peppermint "Bite Sized" Candies
– Mint not your thing? Try Malteasers, Aero Balls, Chocolate-covered Nuts, or even chocolate cereal.
Clean, new dog bowl
Metal or Pyrex bowl
HOW WE DO IT:
Pre-heat oven to 325F. (I know the box says 350F. Trust me, eh?)
Spray a small metal or Pyrex bowl with oil and dust it with a pinch or two of cake mix.
In a separate bowl, mix the rest of the cake mix per the package directions. Pour into the bowl and bake for 50 – 60 minutes, until cooked through.
Allow to cool for 10 minutes. Overturn the bowl on a cooling rack, remove bowl and allow to cool completely. Using a serrated knife, trim the uneven base of your cake so it sits perfectly flat. (Eat the cake scraps.) Sit the flat side of the cake in the dog bowl, like this:
Open the frosting and spread a generous layer all over the cake.
Pour the candy over the top of the cake, shaking it around to fill in all the bare areas. Feel free to pick up any loose candies and stick them in further (or pop them into your mouth. That's what I did, yo.)
And VOILA! Easy peasy, anyone can do it dog bowl cake. People will rave over how cute it is and it's yummy as heck too.
What do you think? Cute right?
Is it mean that one of the best parts is that this is one treat you can't share with your dog? This one is for humans only!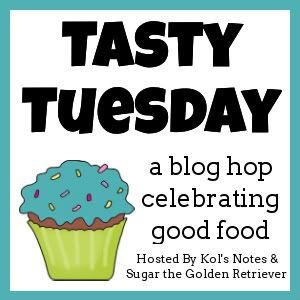 Every week, we invite you to link up your Tastiest Post and Hop On to discover all sorts of new treats recipes, great giveaways and
To take part, follow your hosts, Kol's Notes & Sugar the Golden Retriever, grab the badge from our sidebar,
get the InLinkz code
for your post, and add your link to this week's hop!What are you waiting for? HOP ON!