Spoil your pooch with Chicken Ice Cream: a dairy free frozen dog treat recipe is better than store bought, easy to make & guaranteed to drive your dog wild.
.  .  .
In 2011, I bought an ice cream machine.
 I bought it on a whim, on a hot, summery day and like any self-respecting Crazy Dog Lady, I brought it home, unpacked it and set straight to work making dog ice cream.
Seriously, you guys. I'm not even kidding. What goes through my head? Every other person in the world probably would have run some rocky road through that sucker and treated themself, but me? Oh no, not me. I'm the nut who's got liver paste all up in there. Maybe it's time someone staged an intervention here?
Fast forward four years and to this day, that machine only makes dog ice cream. 
A fancy, healthy frozen dog treat recipe? Woof yes!
Homemade ice cream for me? Ain't nobody got time for that.
Still, I absolutely love that I can make a dog friendly ice cream treat that is grain-free, dairy-free and delicious (*ahem* to dogs, that is). I'm not a big fan of the store bought ice cream options. In fact, I'm yet to find one I would buy.
Now that the heat is here in Vancouver (and hopefully here to stay), I've got the ice cream machine back out and I'm determined to expand our flavour list beyond just chicken or beef. I bet your dog would love it if you tried it too. It's super easy to make dog ice cream at home- you don't even need an ice cream machine. A regular blender, food processor or a Magic Bullet and a regular freezer is all you need.
Tasty Tuesday: Chicken Ice Cream
Ingredients:
2 cups cooked chicken, diced small and frozen
1 cup low-fat, low-sodium, onion free chicken stock
Optional: Veggie puree as a doggy sundae topping
Instructions
Place frozen, diced chicken in a blender, food processor or (our fav) the Magic Bullet*. Slowly add as much stock as needed to make a thick, smooth paste.
Option 1: Place chicken paste in ice cream machine and turn on. Allow chicken "ice cream" to churn, until it firms up, approx. 10 - 15 min. Make sure you frequently scrape down the edges of the bowl to ensure it doesn't freeze hard to the edge.
Option 2: Place ice cream in a container and place in freezer. Allow to set for half hour, then remove from freezer and blend. Return mix to freezer. Repeat every half hour until ice cream is firm enough to scoop.
Scoop into a dish. We like it fancy, so the dogs have their own ice cream cups, but hey, use whatever bowl floats your boat.
If you want to be all sorts of fancy, serve with veggie puree and crushed liver treats to make a doggy sundae.
*Please note that we received no promotional consideration from Magic Bullet or the As Seen on TV store, but if they wanted to send us stuff, that would be freakin' sweet.
What is your favourite treat to help beat the heat?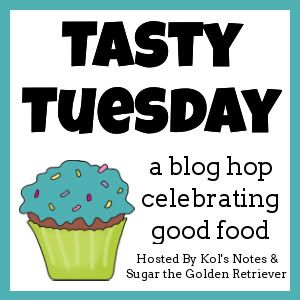 Every week, we invite you to link up your Tastiest Post and Hop On to discover all sorts of new treats recipes, great giveaways and more.
To take part, follow your hosts, Kol's Notes &  
Sugar the Golden Retriever
, grab the badge, get the code for your post, and add your link to this week's hop! What are you waiting for? HOP ON!
Comments
comments