As a member of the Etsy affiliate program and an Amazon Associate, I earn from qualifying purchases.
So, it's that time of year when most gardeners have the same problem.
What the woof are we going to do with all this zucchini?!
Zucchini is a great vegetable and both my dogs will eat it raw, grated over their food, but when you have 12 million or so to work through, you're looking for any way you can to use it all up. To help, we've rounded up 5 fabulous zucchini dog treat recipes to help you use the last of your summer squashes.
This is one of my go-to sites for tasty, easy to make food. (Try the cauliflower chowder. It's fantastic.) These veggie dog bones are a great option for dogs with protein allergies. If your dog is sensitive to wheat, you can sub Bob's Red Mill all purpose flour in place of the whole wheat and it still turns out great.
Koly and Fe LOVE THESE. I toss them with a little liver dust to really kick up the flavour and then dry them overnight. These are a fabulous treat for dogs who are trying to lose a little weight as zucchini is super low calorie.
Who doesn't love a cupcake?! The best thing about these tasty treat is that they freeze really well, so you can make a big batch and defrost them as need. They also make a great cracker style treat – just slice your leftover cupcakes into 1/4″ pieces, lay them out on baking sheets and bake at 150F for 3 or 4 hours or just pop them in the dehydrator.
You guys…YOU GUYS…these have bacon and therefore, they get the Kolchak Puggle paw of approval. He really like bacon and he really rarely gets it, but in this case? It sounds like it takes these squash based treats from tasty to HOLY WOOF.
These sound good enough to try myself. A mix of rich tomato, fresh zucchini and my favourite cheese, parmesan, these treats are sure to thrill your dog. I like to sprinkle a little parm right on top, like it's a pizza.
BONUS: Want a tasty treat that you and your dog can share?
A few years ago, I had a cooking column over at Two Little Cavaliers all about foods you could share with your pooch. One of our very favourite treats we made were these baked zucchini and parmesan bites. I loved 'em, the dogs LOVED 'em and they remain a Casa de Kolchak favourite to this day. Anytime I can share a bite or two off my plate without guilt, I'm a happy Crazy Dog lady.
What's your favourite zucchini recipe?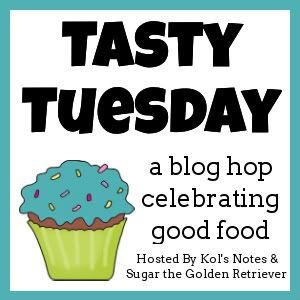 It's Tasty Tuesday!
To join in, follow your hosts, Kol's Notes & Sugar the Golden Retriever, grab the badge from our Tasty Tuesday page and add your link to this week's hop!