As a member of the Etsy affiliate program and an Amazon Associate, I earn from qualifying purchases.
With American turkey day right around the corner, we went back to find some of our favourite turkey dog treat recipes. It's been so long since we made these turkey and kale dog cookies that I almost forgot about them, but looking back, they were so pretty and a lot of fun to make. These cookies make a fabulous hostess gift for any dog lover. Just pop them in a cellophane bag, tie it with some festive raffia and away you go! – Jodi
Have you ever had kale?
It was on sale at the market garden this weekend. Kale is a favourite at Casa de Kolchak. Mama loves to make kale chips (a tasty treat for pups AND their people), she often hides kale in sauces so the Daddy doesn't even know it's there and this weekend, she decided it was high time that she made a dog treat that featured nutritious, delicious kale.
Kale is legit good for you – and for your humans too.
A member of the brassica family (which features other tasty snacks like broccoli and brussels sprouts), this dark leafy vegetable is rich in vitamin c, vitamin k, and beta carotene, plus a whole bunch of cancer fighting phytonutrients. It's low calorie, has a ton of fiber and it can help regulate liver enzymes that assist in the clearing of toxins.
Plus it's totally tasty.
We're not a fan of raw kale, but we love it cooked and the Mama knew we'd be all over tasty treats made with kale alongside some yummy meat. Mama chose turkey because A: it was also on sale and B: she thought it would look really pretty in a fun checkerboard pattern. The grain free homemade dog treats might look really fancy, but they're actually easy as woof (Plus, we have an easy shortcut for anyone who isn't a lousy show off like the Mama)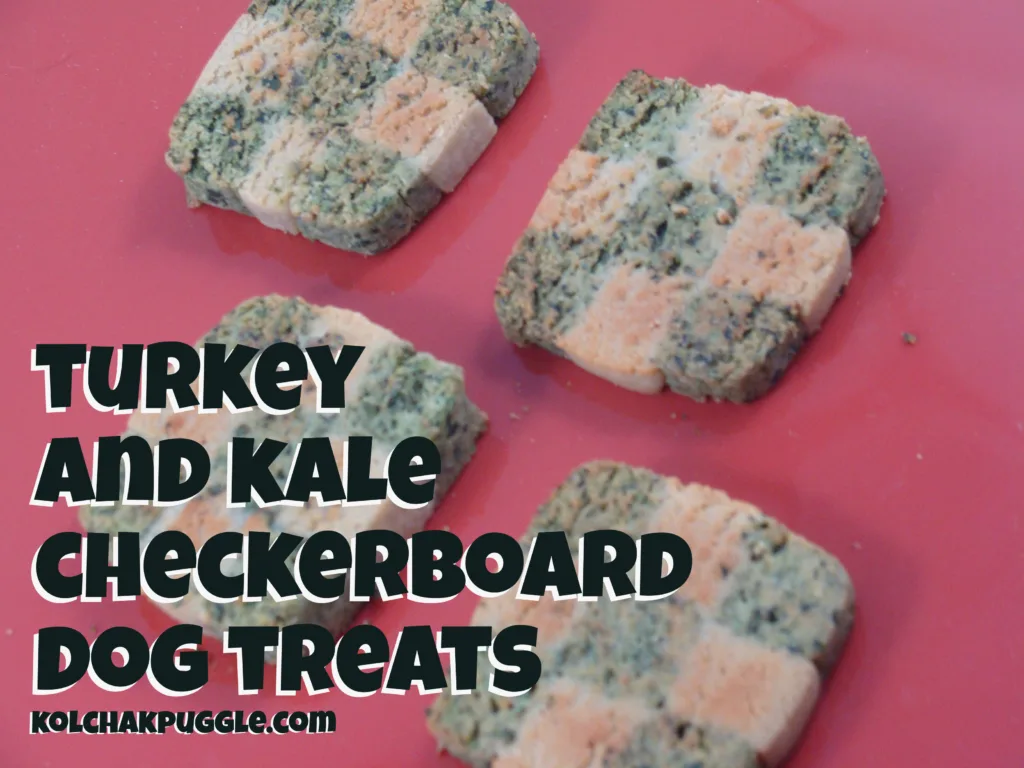 Bone Appetit! What do you say? Do the pups or peeps eat Kale at your house?