As a member of the Etsy affiliate program and an Amazon Associate, I earn from qualifying purchases.
I am so lucky you guys. I have a TON of custom pet art.
My obsession started when I first began writing Kol's Notes and my friend Connie, from Connie Gross Art thrilled my by painting our amazing pop art puggle logo.
AJ, from
the Art of AJ
, is helping me ring in the holidays with custom versions of the illustration she gifted me with a few years ago. Nothing says "happy holiday" like my dogs in costumes and hats, right?!
One of my favourites is drawn by a local girl, who holds pet portrait fundraisers several times a year to raise money for her local small animal rescue. She's raised more than $4000 in three years. That's amazing. Seriously, check out Isabel's Pet Portrait Fundraiser page and make sure you hop on board next time she is offering portraits. (I hear a rumour there will be another chance before the Holidays!)
Just yesterday, I ordered a new portrait from Jen at Playfully Refined. Combining two of my favourite things: wine and Felix, this will be the latest piece to grace my walls.
Over the years, a number of artists have graced me with their custom pet portraits.
So many, in fact, that my craft room walls are dominated by custom versions of Koly and Fe. Sometimes, I have to close the door when I have company because I'm afraid it comes off a little…creepy stalkerish that I have so much. But, the truth is, staring at my gallery walls of gorgeous, one of a kind pet art fills my crazy dog lady heart with joy.
Custom pet art makes the perfect gift for the dog lover who has everything.
I don't need new jammies or a coffee mug. I don't need any new kitchen gadgets or electronics. I have too many books and I am not letting myself get anyone new ones until at least 50% of the ones I have are gone. Art is the one thing you can never have too much of. (Well, art and love, but if you have a dog, chance are you're already doing pretty great on the love front.)
Today, we're sharing 6 of our favourite pet artists in hope of inspiring you to give the gift of memories this holiday and order a picture or two of your own.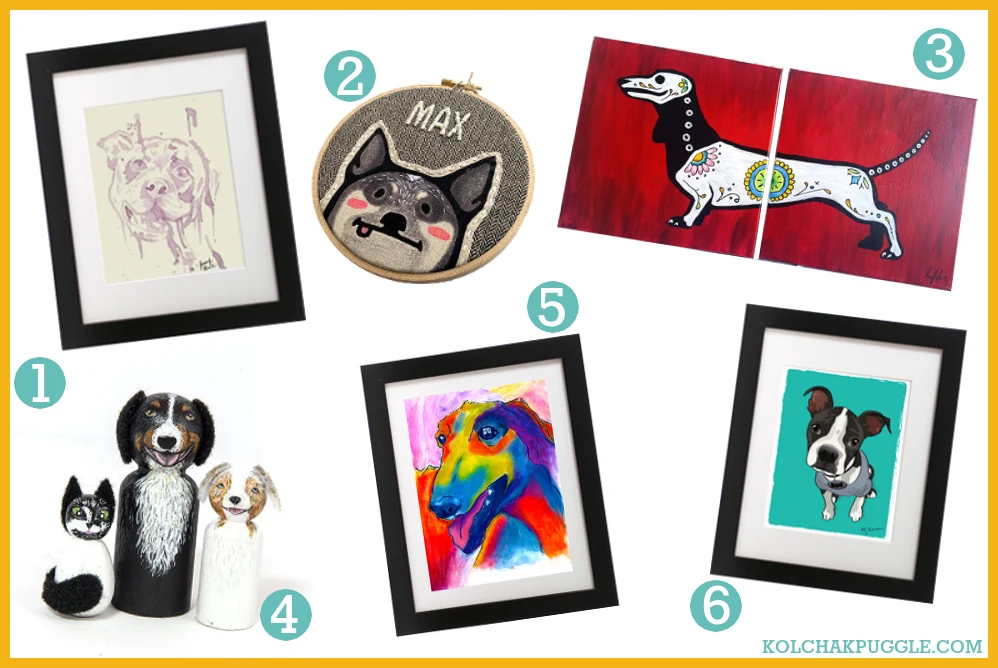 1. Wine Pet Portraits from Playfully Refined
You guys, I can't state this strongly enough: I'm in love. It's a dog portrait PAINTED IN WINE. It's like all my favourite things are coming together to make my heart INFINITELY happy. I cannot wait to see my new portrait of Felix.
$55 – $195 | playfullyrefined.com
2. Embroidery Hoop Pet Art from Hither Rabbit
I am loving the warm, cozy textured look of these embroidered, stylistic pet portraits. This little hoop is such a cute, cartoonish version of your dog and they Hither Rabbit cartoon style is perfection. Definitely something a little different.
$48 – $70 | Hither Rabbit on Etsy
3. Day of the Dead Pet Art by Ryan Jordan
I have always been interested in the Day of the Dead, how people of Mexican descent honour the deceased on this holiday and the beautiful imagery of the sugar skulls. A custom piece by artist Ryan Jordan is high on my pet art wishlist. I mean how cute would this look in a puggle shape?!
Starting at $160 | Herpetobotanical on Etsy
4. Wood Peg Pet Art from Glue Paper Scissors
You guys, can we just take a moment to appreciate how DARN TINY these wood peg puppies are? The largest is 2 3/8″ tall! These pegs pack a big punch for such a little canvas. Perfect for putting in a collectibles cabinet or for your desk at work.
$17 – 25 | Glue Paper Scissors Shop on Etsy
5. Vibrant Pet Art from Julie Raven Art
I am an absolute sucker for a nice, strong vibrant colour. The colourful portraits are a mix of watercolour, pastel and chalk and they look SO fun. Perfect to brighten up a boring office or as a pop of colour in a neutral room.
$50 | Julie Raven Art on Etsy
6. Custom Pet Illustrations from AJ Emm
I love way AJ so perfectly captured my little monster's personalities . Digital images can be a lot of fun, because it's so easier to play with them! Drawn by hand on a digital tablet, with no filter or help, AJ can turn a portrait of you prt ino something amazing.

$100 – $400 | theArtofAJ.com
Pin it for later 😉


Do you have custom art of your pet?
Let us know who created it for you and share your pictures in the comments or on our Facebook page! We love being introduced to new artists.