As a member of the Etsy affiliate program and an Amazon Associate, I earn from qualifying purchases.

---
This post contains affiliate links. If you make a purchase, Kol's Notes will earn a small commission, but the order will not cost you anything extra. Your support allows us to buy craft supplies, fancy flours and other essentials to keep sharing Dog-centric DIY and crafts. Your support means so much to us!
---
I am a huge fan of any holiday that is basically an excuse to overindulge on candy.
That means Easter and I are basically BFFS and my diet for the next 30 days will consist almost exclusively of Cadbury Creme Eggs (the ones imported from England, not the US ones), Mini Eggs and Marshmallow Peeps, which I don't even like but someone manage to eat at least two packages of while hating myself. (I have zero shame and there was a four pack of Peeps on sale on Amazon that came with STICKERS. *Stickers*. So yeah, I bought it. Don't judge.)
When it comes to my dogs, obvs, candy isn't an option, but I still want to spoil them at Easter. THEY DESERVE NICE THINGS!
I mean, LOOK AT THIS FACE!
Dog-friendly Easter treats are high on my shopping list this week. At present, my Amazon cart looks a little something
like this:

You can snag 'em on Amazon at the links below: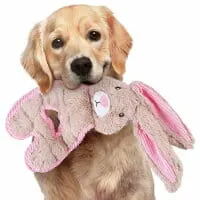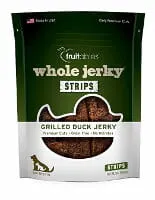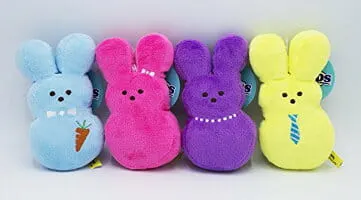 Aside from the delight that is Easter candy and treats, there is something about the colours and fun of Easter that speaks to my soul.
I love decorating eggs. I am a grown-up lady who bought an entire book of egg colouring pages because they are SO pretty and I have a metric woof-ton of Easter decor and props (which are perfect for standing doggy photo shoots!) I have been really into handmade cards lately. Bryn at A Dog Walks Into a Bar turned me onto the idea. She is simply the most thoughtful friend and with a shocking frequency, my mailbox is filled with cards, messages and love. Greeting cards are a lost art in my life, so I've been making a conscious effort to send mail more often. To that end, I've teamed up with card designer, Brittany at SpencertheGoldenDoodle to bring you guys a series of easy-to-make, free printable greeting card kits for dog lovers (because everything, including handmade cards, are better with a dog on it.) The perfect mix between handmade and super easy, these cards make it simple for even the least crafty people to share the love with the special people in their lives. And you guys, I am like crazy in love with our EGG-SHAPED Easter Card template. Looooookit. JUST LOOK.
And the best part? These DIY Easter cards are deceptively simple.
Here's what you need:
White Card Stock (OPTIONAL: I printed my cards on cardstock, but my decorations on sticker paper because #Lazy)
Colour Printer (Don't have one? You can get these printed at Staples!)
Scissors or a Gyrocut
Glue stick or a Xyron Sticker maker (Or Sticker paper – see above!)
Spring coloured or patterned paper (for the envelope)
Optional: Coloured pencils, crayons or markers
1. Download and print the free printable card template and the decorations page.
2. Cut out the egg shape and any decorations you want to use.
(You guys, I'm sorry about the bunny silhouettes. I clearly didn't think those through and they are a PAIN to cut you. Please don't throw rotten fruit at me.)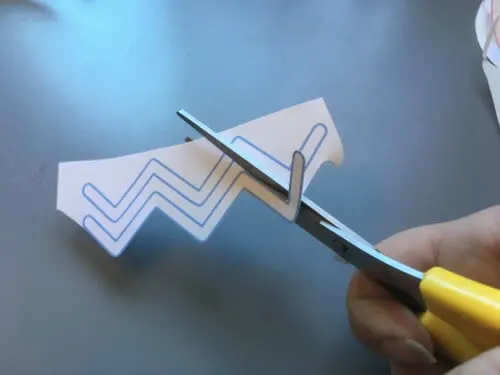 3. Lay your card on the table, outline side down. Carefully fold down the top egg shape, taking care they the edges of the egg line up. Smooth out the fold line. Repeat with the bottom egg shape.
4. Stick or glue decorations onto the egg, trimming the excess off the sides.
5. Choose a greeting for the inside. Glue of stick in place.
6. If desired, colour in your card using coloured pencils, crayon or markers.
It looks really cute either way, so this step is totally optional.
Address the card to someone you care about, print the envelope and send it off! It's a great project for kids and a fun way to let people know you're thinking about them this Easter.
AND if you want to send even more Easter fun, check out the adorable free printable Easter card created over at Spender the Goldendoodle. I'm low key IN LOVE with the dogs in bunny ears. Making Kol wear ears is one of the best parts of Easter, so you know. I'm into it. Head over to Spence's place to download the card!
What is your favourite part of the Easter holiday?