As a member of the Etsy affiliate program and an Amazon Associate, I earn from qualifying purchases.
In a culture of relentless vain selfies, I find so much joy in taking the perfect dog selfie.
Is there anyone on this Earth who doesn't smile when they see the perfect selfie highlighting just how amazing our relationship with dogs really is? Is there anyone whose Grinch heart doesn't grow three sizes seeing dogs with the people they love?! No. Everyone loves dog selfies. E V E R Y O N E.

And National Selfie Day is just the day to practice getting some sweet snaps of your furry friend.
But taking a GREAT dog selfie is harder than it sounds.
I don't know about your dog, but Kolchak is the ultimate uncooperative pooch when it comes to taking selfies. It's so weird because he is such a ham when it comes to regular photos and then? For some reason, I try to put myself in the frame and he just falls apart, refuses to pose and thrashes around leaving me with 52 blurry trash photos.

I can't say I blame him. I mean, dogs don't really "get" the concept of selfies.

They can't check their likes. They aren't hoping some hottie slides into their DMs. That's not the *only* reason to take selfies though.
Too many dog moms don't let themselves be present in their own memories.
Scroll through your phone. If it's like mine, you have about 912 photos of your dogs sleeping, 384 of your dog's big happy grin, and – if you have a Kolchak – 1 million 376 of his sassy faces. But very few pictures of you and your dog together – and even less of just yourself.

This is your best life that you're sharing with your best dog. Your photos should reflect that.
But what is the best way to take an amazing selfie with your dog?
We asked some of our favourite dog moms to share their favourite dog selfies so we could see what makes for a great snap.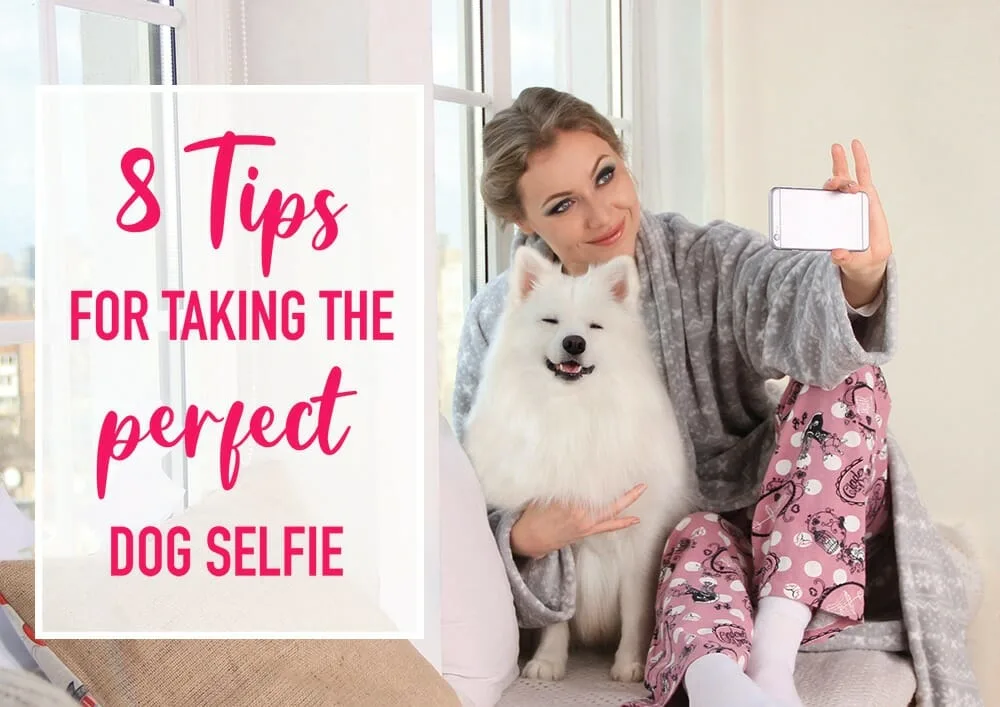 1. Use treats to get your dog's attention.
Tori and Lucy from Wear. Wag. Repeat
Ok, what is NOT TO LOVE about this adorable selfie? Tori is huge into Dog Mom fashion – and it shows. Every part of this selfie is picture perfect – from the matching accessories to the way Lucy is fearlessly looking into the camera. So how did she do it?

"This one turned out really good because I got one of those clips that attaches a treat to your phone 🤣🤣🤣" – Tori Mistick

Um, brilliant much? Kol will always turn his head for a treat. I just ordered this pet selfie treat clip off Amazon.

You can find more Tori and Lucy on their (totally awesome) Instagram.


2. Meet your dog in their space instead of forcing them into yours.
That'sa meeeeeee and my Kolchak.
By popping in behind Kol, it's like he doesn't even know I'm there. (which is a good thing because he never would have let me take this.) By letting your dog choose their place and their pose, you keep them from getting uncomfortable. Uncomfortable dogs take awkward, blurry pictures.
3. Capture silly moments
Alinta & Pickles from Paws & Polish
Great moments make great photos. Even if the snap itself is less than perfect, the moment is a memory worth saving. I love this pet selfie of Alinta and Pickles, so I asked how she did it and if she taught her dog to kiss on command.

Alinta says this is "just her way of showing love 🙂 she doesn't lick she just gives a nose peck. She now knows if I get close to her face that I want one haha."

Since we're not all lucky enough to have sweet, affectionate pooches, you can create a signature smooch moment by putting a dab of peanut butter or squeeze cheese on the side of your nose.

You can catch more from Alinta on Instagram
4. Match your dog's facial expression.
Abby and Jada from the Chesnut Mutts
Dog with happy faces are happy. Mimic your dog's big grin to capture a fun and silly selfie. Abby can be a real ham – just like Jada, so this snap captures this dynamic duo perfectly.

If your dog isn't a natural goofball, you can get them to make funny faces by using a dog selfie app like Dog Cam which makes funny sounds to get your dog's attention.

Need more Abby and Jada? Find them on Instagram.
5. Create a loving moment
Kimberley and Rolo from Rescue Dog Mom Confessions
How sweet is this moment between Kimberley and Rolo? These two had such a special bond and this photo brings such a smile to my face. Their matching shirt and bandana give it a cohesive feel, but their love really is the centrepiece of this photo.

Kimberley calls her pooch "Rolo selfie king 😂" because he was such a sport at taking selfies, but the real lesson they can teach us about taking amazing dpg selfies is practice makes perfect. The more you do it – the more your dog will cooperate.
6. Have fun with angles
Oh heyyyo, me and Kol again. What? it's our blog. We can use ourselves twice, right?
One of the keys to getting a great dog selfie is to hold that camera at eye level, but no one ever said you had to be standing up. You can get some super cute dog selfies by laying on the ground with your dog, holding your phone directly above you and snapping away.
7. Get creative with close ups.
Kama and Popeye from Kama Loves Agility
This close up is so stunning and it perfectly captures the sheer intensity this duo tackles everything, but especially agility, with. Experiment with bringing the camera way in close.

When I first asked friends for their best selfies, Kama said "you just opened a can of worms for me cuz I have selfies with all my dogs 🤷‍♀️" then hit me with like 10 equally amazing options.

Kama is a whiz photographer so it's no surprise she gets some amazing shots. One trick she taught me, is that you can tap on your smartphone screen to tell it where to focus, so if you look a bit blurry tap your face and it should come in focus.

Can't get enough Kama and Popeye? You can follow their achievements on Instagram.
8. Have fun with Filters
Amanda and Wynston from Dog Mom Days
Ok, so every single photo of Wynston is perfection. I'm kind of in love with him, but his cutest factor can be multiplied 10x over with Snapchat filters. I don't even Snap and I find myself wanting to sign up just for the filters!

Need more Wyn in your life? (Don't we all?) Follow his adventures on Instagram
What is your best tip for getting the perfect selfie with your dog?