As a member of the Etsy affiliate program and an Amazon Associate, I earn from qualifying purchases.
This week, we lost a friend. Please join us for a moment of silence for our good buddy – the Freezer.
Mr. Freezer could not have chosen a worse time to kick it. Way to go! Mama had just returned home from a long and exhausting visit with the GG, after the world's longest day at work. She was all prepared to come home and eat her favourite "This day has sucked the will to live right out of my body" dinner of toast and milk, when she heard the most horrible noise coming from the freezer. It sounded like there was a small rodent caught in the fan. *shudder* Like nails on a chalkboard, I tell ya.

Mr. Freezer, unlike his name, was not frozen. Not even close. He was working as hard at keeping our food cold as Daddy works at picking up after himself. Mama sprang into action like a Ninja sorting the food into things still frozen and then fitting them into the fridge/freezers, things that had to be cooked and eaten or re-frozen within 72 hours and things that could never be saved no matter how much it hurt her (like 6 pints of ice cream bout on sale last weekend. I swear, she couldn't have been more ridiculously emotional. Women!). In the "Must Be Cooked" pile was 12, that's right, TWELVE pork tenderloins. JACKPOT. Lots of people think their dogs can't eat pork.
Did you know that pork tenderloin is just as low-fat as a chicken breast?
True story. Check it out. Over the years, pork has gotten a bad wrap for being high calorie & high fat, but the 6 leanest cuts of pork are said to be 16% leaner than they were 15 years ago and 27% lower in saturated fat. That makes them a good choice for us pups and our health conscious humans too. To make healthy pork choices, stick to cuts that have "loin" in the name – they tend to be the leanest!
So when Mom found a 3/$5 sale at the butcher a few weeks back, she jumped at it buying a whopping 12 pork tenderloins. So she set off to try something she has wanted to try for a while – pinwheels. She chose a bag of partially defrosted veggies. (Brussels Sprouts happened to be handy, but feel free to use your own personal fav. When I make them again, I probably would use a bright vibrant veggie – like carrot or beet for a nice pop of colour)
Porky's Pinwheels


3 Pork Tenderloins
1 small bag frozen veggies (choose something without corn!)
– or equivalent in fresh veggies
approx. 1 cup low fat, low sodium chicken stock
Preheat oven to 350F.
Using a sharp fillet knife carefully trim any noticeable fat and slice the meat horizontally into 1/8″ – 1/4″ strips.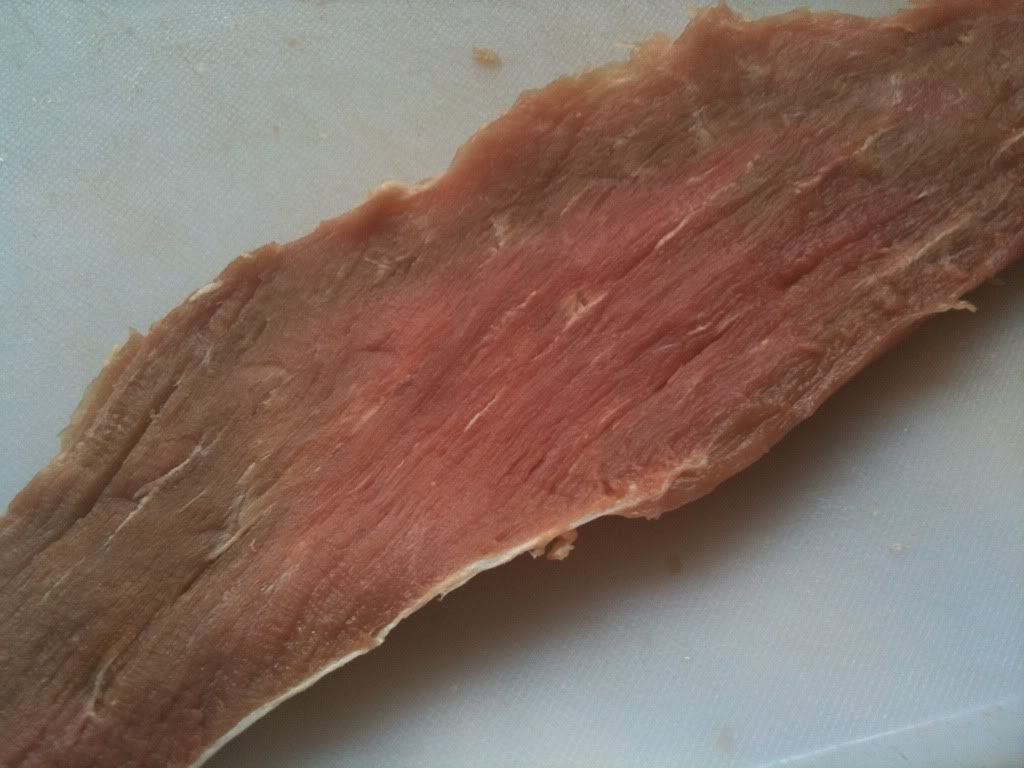 In a blender or food processor (or my fav, our Magic Bullet) puree veggies, adding stock slowly as needed to form a thick paste. I used Brussels Sprouts, Felix's favourite!
Lay out pork loin strips and spread a generous layer of veggie paste over the meat. Gently roll meat onto a loaf and place on a baking sheet. Repeat until all pork strips have been layered with veggie and rolled.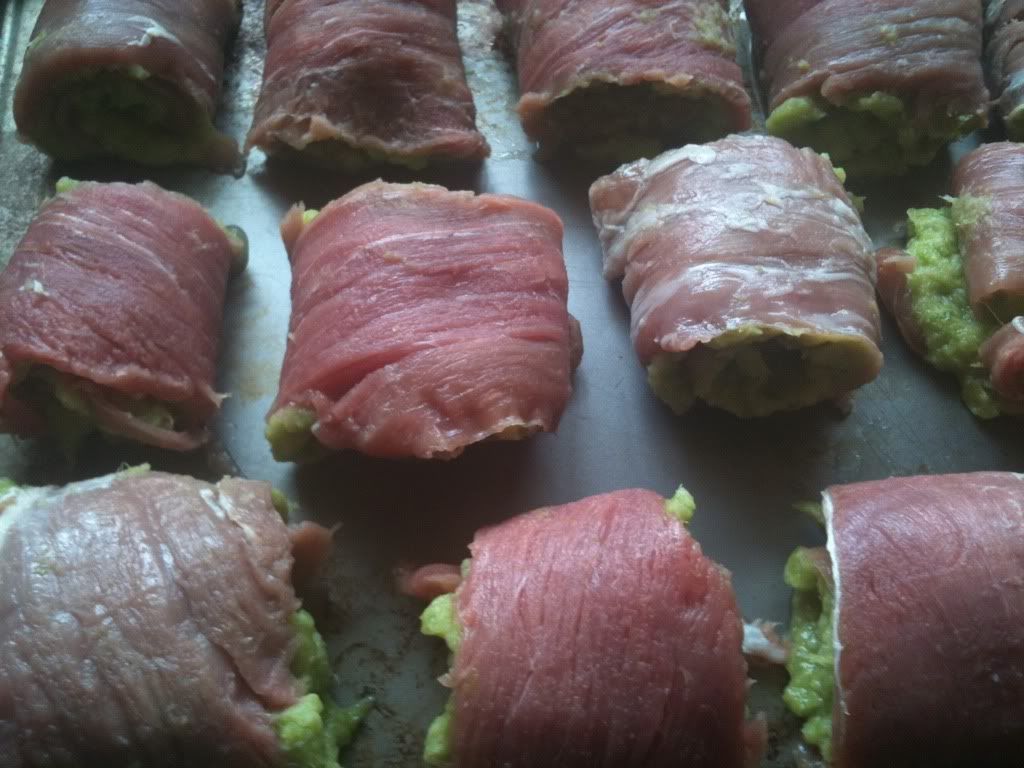 Place in oven for 30 minutes, until the meat is firm and no longer "squishy". Turn oven down to lowest setting (or turn oven off and use your dehydrator. We love to use our NESCO dehydrator for this kind of thing. It's super handy and it leaves the oven free to make Tasty Human treats!)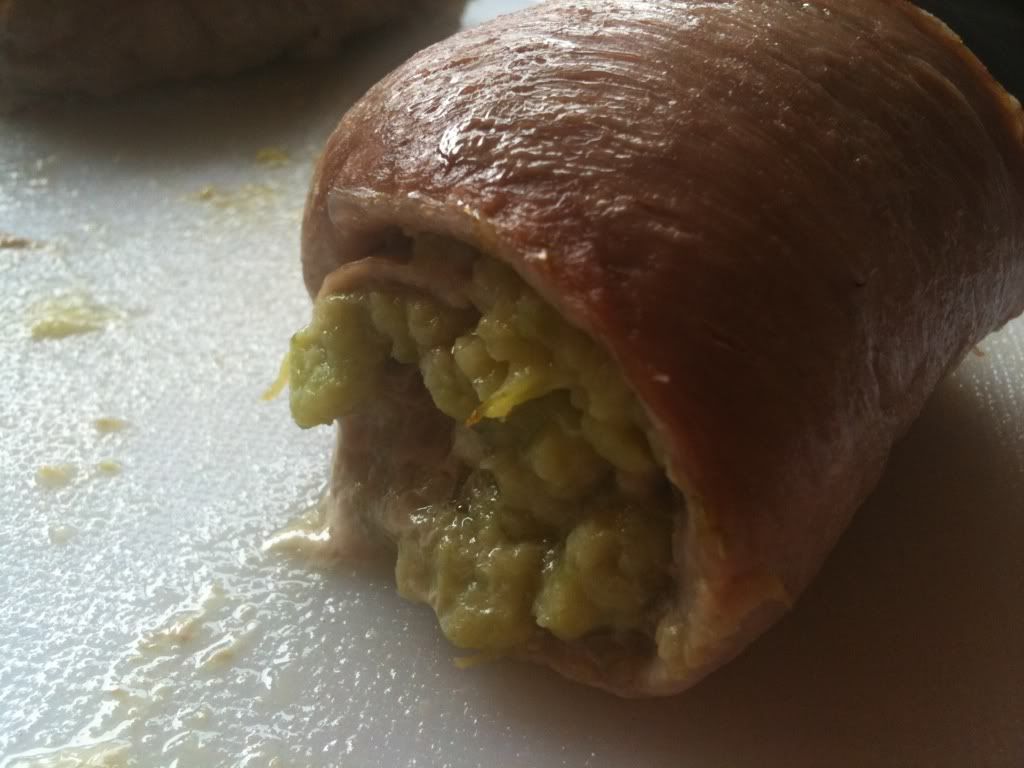 Allow meat to cool enough to handle then slice into 1/4″ pinwheels.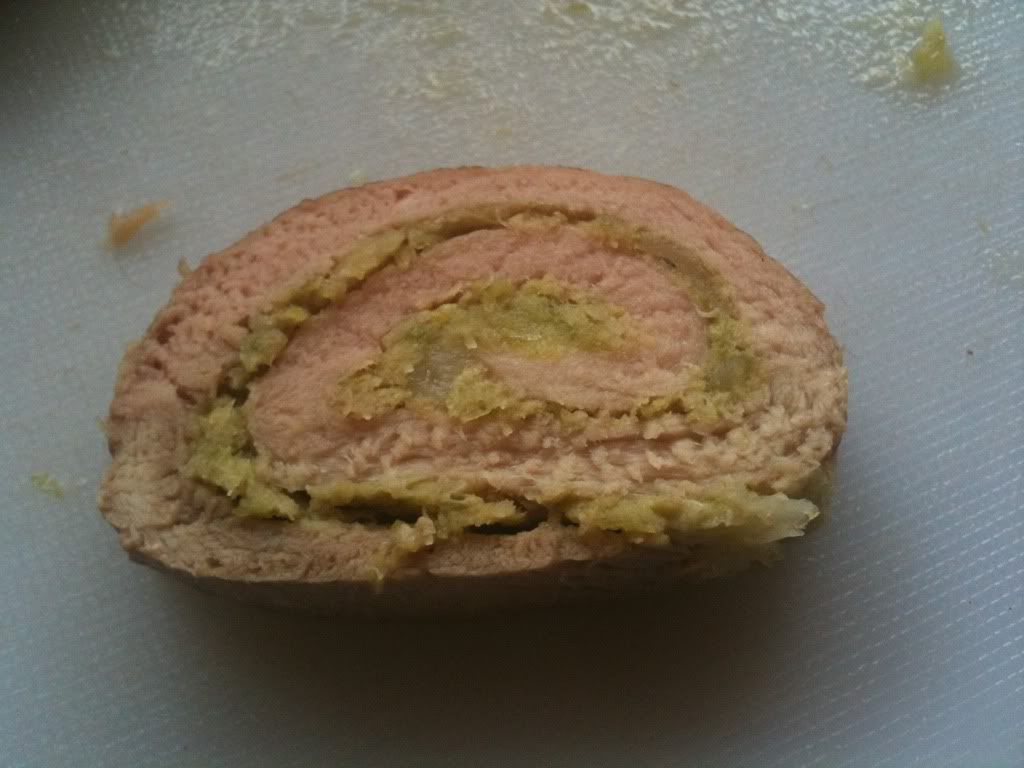 We *really really enjoyed the few fresh pork treats Mama gave us at this stage. For chewy treats, please in an airtight container and store in fridge for up to three days. Treats can be placed in the freezer and defrosted as needed.
Place pinwheels back on baking sheet or on dehydrator racks and return to oven/dehydrator. Allow to cook for approximately 4 hours or until treats are crunchy.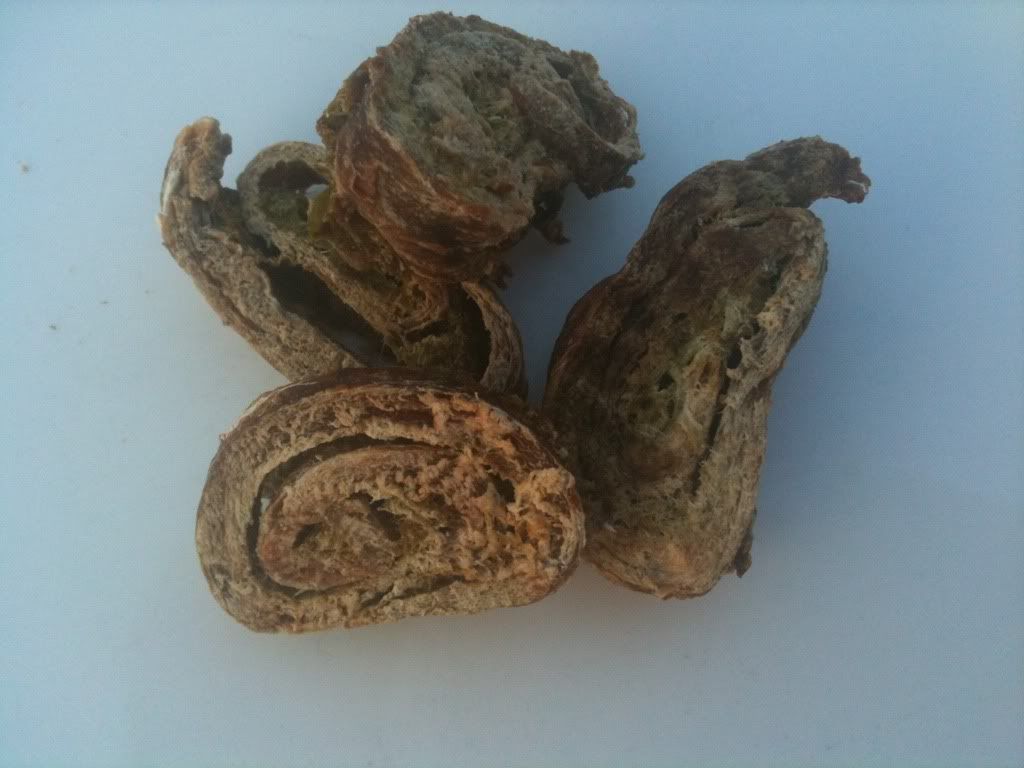 Bone Appetit!
*Please note that we received no promotional consideration from Magic Bullet or NESCO for this endorsement, but if they wanted to send me things that would be freakin' sweet!
******************************************
PS – Did you see our post from yesterday – Inspire Me? Check it out for your chance to have a Kolchak's Kitchen Treat named by you, a bag of the treats for you to enjoy and a button on our blog sidebar 🙂
******************************************
All posts are the property of Kolchak's Kitchen and Kolchak Puggle/Jodi Chick. Please ask before reposting content. All reposts must link back to our site. Thank you!