As a member of the Etsy affiliate program and an Amazon Associate, I earn from qualifying purchases.
If you are reading this, send snacks!
Ever since the Mama went on this health kick, she's been like, ridiculously stingy with the treats. No cookies! No crunchies! No…anything. I'm practically starving. You should see me, it's awful.


But WHY?! can't I have any more treats?! WOOF!
Thank Dog for Tasty Tuesday & K9 Kamp


Tasty Tuesday means that the Mama needed to make a treat to share with y'all and K9 Kamp? Well, that mean that the Mama wanted to share a treat recipe that was healthy. She wanted to come up with something that wouldn't set her off on a wretched shame-spiral of blame, doubt and insecurity over my (and her) slightly jolly-than-ideal waistlines.
Pumped Up for Pumpkin


Pumpkin is one of those wonder-foods at our house. We get it all the time, not only is it a great addition to snacks, it's also really low calorie. In fact, there are less than 50 calories per cup of stewed pumpkin. That is a whole lot of snack for some pretty reasonable calories.
Get the Mind Bleach.


**I'm about to over-share**. Got Potty Problems? Check out pumpkin to help get you back on track. Lots of dogs get backed up anal glands and a ton of you are often subjected to the shame, horror and embarrassment of having your butt manhandled by some sicko in gloves and disgraced yourself as they expressed your anal glands. The glands get backed up due to infection or often, due to the fact that your dog's stool is too soft to apply enough pressure when they go to the bathroom. A teaspoon or two of canned (unspiced, unsweetened) pumpkin with your pup's breakfast each day should help make sure they never have to suffer at the hands of the "Gloved One" ever again.
Pumpkin also helps if you have really loose stools, adding the fiber you need to help firm things up again.
Who's hungry?!


No one? Really? Was it something I said? I told you to get the mind bleach. Geeze. Suck it up. Crap happens – and sometimes it needs a little help.
Craving the Comfort Food
We've already established that the
Mama eats her feelings
and that
more than a little food love comes my way
. Imagine me as the Hugh Hefner of snack, only instead of
this
, I'm more like
this
. I'm da pup, surrounded by
ladies
treats. One of the Mama's favourite pasta dishes, is a Tuna & Pumpkin bake. With lots of chunky pumpkin, delicious tuna, just a handful of pasta and a hint of cheese, this dish gives the Mama that warm comfort food feeling, without adding
another
spare tire to her less-than-svelte waistline. Why couldn't the Mama take that same concept and apply it to treats for us? Get on it women! I need a snack!
Seriously, bathroom issues aside, these treats are frickin' delicious. It's like there's a party in my mouth and you're alllllll invited. Unless you want to share the treats. The treats are mine, all mine, because, frankly, they are just too good to share.
YUM. More please.
**Since we pretty much fried our brains (and some of yours) on our
kibble conundrum
post yesterday, so we're gonna take it *nice and easy* today. Seriously, anyone, even those with severely limited kitchen skills can make these treats.
Tuna Tasties
2 – 6 oz. cans of Flaked Tuna in Water (low sodium is always nice, and heck, while you're at it, how about dolphin friendly.)
1 cup plain/pure pumpkin puree (Not pie filling – no sugar, no spices)
1 egg
**optional**
1 tsp garlic powder
1 tbsp dry basil
1 tbsp dry parsley
Preheat oven to 350F. Line a baking sheet with foil or parchment and lightly spray with cooking oil.
In a medium bowl, glop all the ingredients in and give them a good stir. (We here at Kol's Notes are nothing is not fancy. I'm pretty sure GLOP is an official cooking term, right??)
Using a small spoon, dish out mix onto the cookie sheet, creating "dots" about the size of the button on a winder coat.
Not feeling the polka dot action? That's cool. Spooning buttons is a lot of work. Make Tuna Tasty Crackers instead. Just goop the whole mix out onto the cookie sheet and spread about 1/8″ thin using the back of the spoon. (Goop. Another official kitchen term. I should totally be on Food Network or at least, My Drunk Kitchen.) Use the end of your spatula to "Score" the treats and create a grid pattern. (Don't try to drag the spatula through the mix, you'll just make a hot mess.)
Place in oven and bake for 45 minutes. Remove from oven, allow to cool slightly, then flip. Return to oven for another 45 min.
The dots should be soft and chewy, which the crackers should be crisp and crunchy.
Store in the fridge in an airtight container for up to 10 days. OR HEY, they could always go in the freezer, I mean if by the end of 10 days they aren't gone and you aren't badgering, brow beating and bullying your Mom into making you more. 'Cause yeah, they're that good.
Did I mention the best part?
Our recipe made about 100 Tuna Tasty dots. That's 100 snacks for us to eat and I can have them all! Since each treat is only around 5 calories, the Felix and I will have absolutely no problem finishing these off before they go bad. JACKPOT.
What kind of low-cal treats do you get?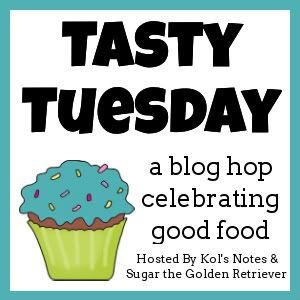 Every week, we invite you to link up your Tastiest Post and Hop On to some other blogs to discover all sorts of new treats and snacks. We encourage you to link up to your:
Original Dog Treat Recipes (if posting someone else's recipe, you should always get permission first. Otherwise, that's theft brotha.)

Original Human Treat Recipes (Please call the HUMAN TREATS when adding them to the link list!)

Dog Treat Reviews
Dog Treat Giveaways
Pictures of you enjoying your favourite treat
And all things snack and treat related! To take part:
Follow your hosts, Kol's Notes & Sugar the Golden Retriever

Grab the badge above for your post

Add your link to this week's inLinkz tool

and Hop On!
What is YOUR tastiest treat?
All posts are the property of Kolchak's Kitchen and Kolchak Puggle/Jodi Chick. Please ask before reposting content. All reposts must link back to our site. Thank you!