As a member of the Etsy affiliate program and an Amazon Associate, I earn from qualifying purchases.
There once was a puggle named Koly,
who ate treats 'til he was Roly & Poly.
When he woofed "Mama please",
he got treats made of peas.
"Yum!", he barked. "Holy schmoley."
So as you can see, the Mama is at it again.
Am I the only one totally embarrassed by her antics? Mama, you're only embarrassing yourself…and me…and the Felix…and everyone who had to read that.
You had better redeem yourself with these treats.
In honour of St. Patrick's Day, I told the Mama that she had better get into that kitchen and make me some treats! I wanted something green. I mean really, the humans have all sorts of green treats, why can't us dogs have them too?
We can. Green Pea Flour was practically made for St. Patrick's Day.
Click here to buy it!
It makes your cookies green, yo!
It's also high in protein and a great option for making grain-free dog treats. Oh, and it's tasty.
Really tasty!

OK, let's make green cookies!


Here's what you need:


2 cups Green Pea Flour
(or rice flour or wheat flour)
2 cups Frozen Peas, defrosted
1 1/2 cups ground chicken
1/4 cup parsley
1 egg
Preheat oven to 350F and line a baking sheet with parchment paper.
Over medium heat, saute ground chicken until cooked, but not brown. In a food processor, blender or (my fav!) the Magic Bullet, mix together defrosted peas, chicken and egg.
Stir green pea flour and parsley into the pea mixture. It should be thick, but not stiff. Pour mixture onto baking sheet and spread into a thin (1/4″) layer. Bake for 60 minutes at 350F.
For a soft treat, remove from oven, allow to cool and serve.Store treats in the fridge.
For a crunchy treat, reduce heat to 200F and leave in oven for 4-6 hours, flipping once.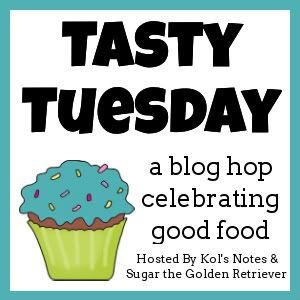 Every week, we invite you to link up your Tastiest Post and Hop On to discover all sorts of new treats recipes, great giveaways
a

nd
To take part, follow
your hosts, Kol's Notes & Sugar the Golden Retriever, grab the badge from our sidebar
,
get the InLinkz code
for your post, and
add your link to this week's hop! What are you waiting for? HOP ON!
All posts are the property of Kolchak's Kitchen and Kolchak Puggle/Jodi Chick. Please ask before reposting content. All reposts must link back to our site. Thank you!