As a member of the Etsy affiliate program and an Amazon Associate, I earn from qualifying purchases.


We had a close call at Casa de Kolchak this weekend.


the Mama was making a batch of dog treats for a friend and she ran out of chicken stock. It was a silly rookie mistake and since the Mama was feeling a little lazy rushed for time, she decided to just buy some. It's sold in at the grocery store right? It's human-grade, right?
How bad can the stuff be?


Turns out, it would have been faster for the Mama to raise a chicken and turn it into stock than it was to choose a product off the shelf. The Mama was at the store long enough for her hair to go grey and for the stock boys to consider calling the authorities about the weird lady muttering in aisle 8. There wasn't a single darn product at our store that the Mama could use. For serious. It was ridiculous.
I mean, isn't chicken stock just chicken-y water?
What is all this extra crap they're putting in it these days? The stocks we found on the shelves at our local store had all sorts of "extra" ingredients: wheat, soy, palm oil, sodium…so. much. sodium. Worst of all – onions. They all had onion.
Everyone knows that onions are toxic to dogs.
What not everyone realizes is that even a small dose of onion can be fatal. As little as 15-30g of onion/kg of dog can result in clinically important hemotologic changes. That's pretty darn scary. It's even scarier that onions are not only toxic when consumed in one large dose, they're also toxic when consumed frequently in small doses. It's best to avoid them altogether.


So what's a pup to do?


First, read labels very carefully. You're not just looking for the word "onion". Onion can masquerade under a few other "technical terms:
Onion Extract – Concentrated onion flavouring made from onions.
Flavour, Natural Flavour or Flavourings – The FDA defines flavour as anything from spices, like pepper or ginger, to you guessed it, onion powder or onion juice.
Spice or Seasoning – Technically, these terms shouldn't be used to describe onion salt or onion powder. The FDA guidelines suggest that these be declared as their own label items, however, labeling is not an exact science. Better safe than sorry!
Boullion – These dried cubes are dehydrated versions of stock. I've frequently seen them in dog treat recipes to add flavour to a cookie that would otherwise be all grain. These cubes almost always have onion – and way more sodium than is healthy.
After her three-hour tour at the grocery store, the Mama decided she would just make stock.


It was easier than trying to call 15 different stock manufacturers to clarify their ingredient listing (though, she does plan to email many of the companies in search of the Holy Grail of Chicken Stocks.)
Want to make your own stock at home?


It's actually really, really easy. Are you ready??
Buy a whole chicken and hack it into chunks (or just buy bone in chicken pieces).
Put the chicken (bones and all) into a stock pot and saute over med-high heat for 4-5 min.
Reduce heat to low, cover and cook chicken for about 20 -25 minutes.
Cover with water and bring to a boil.
If desired, toss in some chopped carrot, celery and parsley (totally optional)
Reduce heat & simmer for a few hours. The longer you simmer, the better the flavour.
Strain out meat and bones. Save the meat to use in other treats, like leftover loves or cheese & rice treats.
Place stock in fridge over night. While still chilled, skim off the excess fat.
Freeze in 1/2 cup servings, to be used as needed.
It's that easy! Onion free stock with very little work. You can even do this with other kind of meaty bones – like beef or lamb marrow bones. Yummy!
We never even realized that this was such an issue! We're going to review old recipes to see if we can make them "stock-free" and the Mama is going to work on creating a an onion-free, dry flavour booster that can be added to recipes.
What kind of stock do you use? Is it onion free?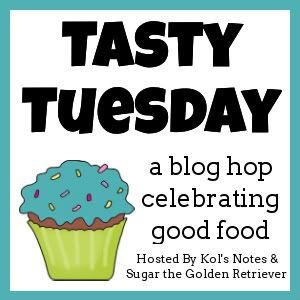 Every week, we invite you to link up your Tastiest Post and Hop On to discover all sorts of new treats recipes, great giveaways
a

nd
To take part, follow
your hosts, Kol's Notes & Sugar the Golden Retriever, grab the badge from our sidebar
,
get the InLinkz code for your post, and
add your link to this week's hop! What are you waiting for? HOP ON!
All posts are the property of Kolchak's Kitchen and Kolchak Puggle/Jodi Chick. Please ask before reposting content. All reposts must link back to our site. Thank you!