As a member of the Etsy affiliate program and an Amazon Associate, I earn from qualifying purchases.
The Mama is a big fan of oatmeal.
She eats it all the time. Almost everyday. She even makes her own oatmeal bars. Chewy, semi-sweet cookies that she L.O.V.E.S. She claims they are "healthy cookies" whatever that means. She will even eat them for
breakfast!
Can you imagine? Cookies for breakfast?
Ahem, what about me, Mama?
I want an oatmeal bar. Get in the kitchen. I want dog-friendly oatmeal bars and I want them now.

They were really easy and they taste so woofing good.






Want to make some? Sure ya do! Here's what you need to make Baked Oatmeal Bar Dog Treats
1 1/2 c. oatmeal
1 c. coconut
1/2 c. Red Mill Gluten-free Baking Mix (or Flour)
1/2 c. dried cranberries
1/2 c. carob chips
2 tbsp. coconut oil, melted
1 over-ripe banana, mashed
3 tbsp. honey
1 egg (or 1 tbsp. ground flaxseed & 3 tbsp. water, stirred together until thick)
1 tsp. vanilla
1 tsp. cinnamon
Pre-heat oven to 350F.
In a small bowl, gently whip the egg. Stir together egg, coconut oil, banana, honey, & vanilla. In a medium bowl, mix together oatmeal, coconut & flour/baking mix. Mix until all wet ingredients are absorbed. Stir in cranberries & carob chips.
Line a baking pan with parchment paper. Press Mix into the bottom of the pan and bake for 45 – 50 minutes or until edges are golden brown. Use parchment to lift bars out of the pan and cool. Cut into small squares and serve.
Bone appetit!
PS – I hate to be a tattletale, but although the Mama claims these are for us dogs. I have personally seen her eat THREE since last night. Yeah. The Mama is a treat thief.
This is a blog hop!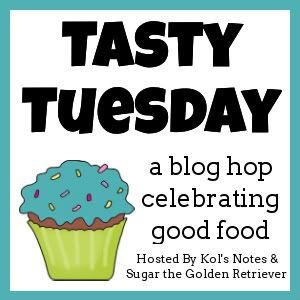 Every week, we invite you to link up your Tastiest Post and Hop On to discover all sorts of new treats recipes, great giveaways
a

nd more!
To take part, follow
your hosts, Kol's Notes & Sugar the Golden Retriever, grab the badge from our sidebar
,
get the InLinkz code
for your post, and
add your link to this week's hop!
All posts are the property of Kolchak's Kitchen and Kolchak Puggle/Jodi Chick. Please ask before reposting content. All reposts must link back to our site. Thank you!