As a member of the Etsy affiliate program and an Amazon Associate, I earn from qualifying purchases.
It's game on at Casa de Kolchak!

We're not playing hockey or soccer or even basketball though. We're making tasty treats using game meat! Just what is game meat? It's a term used to describe any number of tasty meats that aren't usually raised domestically. In North America, that can mean elk, deer, pheasant, rabbit, moose and buffalo or bison, just to name a few. In other words,
all my favourite meats.
We all love game at Casa de Kolchak.

It all started with the Daddy, who loves a nice buffalo burger. Then he got the Mama eating it. Once she did some research, she learn that game meat isn't just tasty, it's also genuinely good for you. Once she knew it was healthy? Well, I bet you can guess what happened next.
Only the best for the dogs at Casa de Kolchak.
Now, we eat lots of tasty game to.
Here's why we love it:


Game meats are novel proteins. Since elk, venison, rabbit, bison etc. aren't commonly used in dog foods, these proteins are less likely to trigger a reaction in an allergy prone pup. This is a big deal for my Felix, who used to be a big allergic mess.
It's leaner. Wild caught game animals get a lot more exercise than their commercial counterparts. Even though meat sold in the US must legally be farmed, game meats tend to be raised on free-range farms where they get plenty of exercise. (Check the labels to be sure!) This extra exercise, combined with the fact that these animals aren't commercially bred for rapid weight gain makes these meats leaner than the traditional options of beef, chicken or pork. It's also lower in calories.
Strong meaty flavour. Lots of humans are split on whether the strong taste is a bonus or not, but pups everywhere agree – this strong meaty taste is fantastic! With a bold, assertive flavour that some compare almost to liver, I can't imagine a dog that wouldn't love it.
Seems like a great choice to us!


So we told the Mama to get her butt in the kitchen and make us some tasty treats! Our local organic market had a sale on bison (or buffalo, it's essentially the same thing), so bison it is, eh! The Mama has been like, extra lazy lately, so she wanted a really simple treat that she could just mix up and bake.
Bison Bars Dog Treats
2 lbs. lean ground bison
1/2 cup grated carrot
1/2 cup grated zucchini
2 tablespoons chopped parsley
2 tablespoons chopped cilantro
1 cup puffed quinoa*
2 tbsp. flax seed meal + 6 tbsp. water, mixed together and set for 2 – 3 minutes**
*If your dog is wheat tolerant, you can substitute bread crumbs or puffed rice instead of puffed quinoa
**If your dog is egg tolerant, you can substitute two eggs for the flax meal
Preheat oven to 300F.
In a big bowl, mix all ingredients. Seriously. That's how lazy Mama has been lately. Just mix 'em on up. Don't be fancy. No one likes a show off.
Line a 2 small baking sheets with parchment paper (Make sue you use the ones with sides, not a flat sheets. Goo will spill over the edges and you will regret it. Don't say I didn't warn you.) If you want to be a fancy pants, you could roll these into meatballs. Not at Casa de Kolchak. The Mama had a couch to hold down. L.A.Z.Y.
Press meat mix into the pans in an even layer. Use a spatula or a pizza cutter to separate mix into bite sized bars.
Bake for 30 – 40 minutes on the middle rack, watching carefully. Due to the low fat content, bison can burn easily. These meaty treats can be stored in the fridge, as is – or if you prefer a crunchier treat, reduce the oven heat to 150F and leave to bake for several hours until crunchy.
Boné Appetit!
This is a blog hop!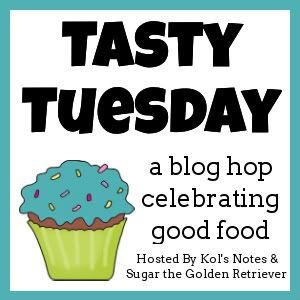 Every week, we invite you to link up your Tastiest Post and Hop On to discover all sorts of new treats recipes, great giveaways
a

nd
To take part, follow
your hosts, Kol's Notes & Sugar the Golden Retriever, grab the badge from our sidebar
,
get the InLinkz code for your post, and
add your link to this week's hop!
All posts are the property of Kolchak's Kitchen and Kolchak Puggle/Jodi Chick. Please ask before reposting content. All reposts must link back to our site. Thank you!