As a member of the Etsy affiliate program and an Amazon Associate, I earn from qualifying purchases.
I don't know what is going on, but the Mama is LAZY AS WOOF lately.

She keeps using the word busy, but we all know the truth. She's L.A.Z.Y. pure and simple. She's been spending a ridiculous amount of time of the human hamster wheel. (I mean really, that can't even be FUN when you do it that often!) She's been tappity tapping on the craptop, claiming she's "working". (I see that Pinterest window, Mama. You ain't pulling one over on Koly!). Add that to the fact that she has been eating like a bird (no literally, I'm pretty sure she was eating birdseed earlier) and treats are pretty hard to come by at Casa de Kolchak.
If it wasn't for folks like Salmon Paws sending test samples, I would barely be surviving.
(Try the Omega Stix, they're breath taking.) The point is that the Mama hasn't been spending much time in the kitchen, but she loves Tasty Tuesday and she loves all of you, so she was
determined
to get our recipe done!
Last week, we told you all about why we love to make dehydrator dog treats.
We left one reason out. Totally bonehead move on the Mama's part because it's one of the
best
reasons!
Dehydrator treats are so easy & low maintenance.
It is almost impossible to burn treats in a counter top dehydrator. No seriously, if it was possible, the Mama would have done it this week. She has chicken-brain and she is running around like a chicken with it's head cut off. Every time she starts something, she forgets what's she's doing and starts something else. Can someone get her an Adderall or something? I can't take all this chaos!
Good thing this week's treats took almost no concentration and even less effort!
And as an added bonus, they only have
two ingredients.
Lean ground meat & frozen veggies.
Seriously. That's it.
That's just how we roll at Casa de Kolchak these days.
Make sure you choose a kind of veggie that doesn't have any onion. We also chose to avoid corn. The beauty of these treats is that you can make them with whatever flavours you want! We're using ground turkey & frozen beans and carrots, but you can use your favourite meat & veg!
Roughly chop frozen veggies into chunks. You want about 3 cups of veggies. Mix with 3 cups of ground meat. If you're like, all fancy and junk, you could add an herb to flavour it. Mama used rosemary, but you could use parsley, cilantro, dill – any dog friendly herb you've got.
I've already had the Mama's attention for like 10 minutes. She'll space out soon.
Now, you could make these in the oven (and we'll tell you how in a minute), but it's so much easier to make them into a dehydrator! (And less disastrous when your Mama forgets about them!)
Dehydrator Method:
Line the dehydrator tray with a tray liner or parchment paper. Press the meat mix into the tray, pressing it so it is about 1/4″ thick. Use a knife to score the mix and make it easier to break later. Plug in the dehydrator and turn it to the meat setting (If your dehydrator doees not heat hotter than 165F, you should bake these in the oven for 30 minutes, then transfer them to the dehydrator). Forget about it for 8 – 10 hours (depending on the meat). You'll know it's ready when it breaks in half.
Oven Method:
Preheat oven to 165F. Line a baking sheet with parchment paper. Press the meat mix into the tray, so it is about 1/4″ thick. Use a knife to score the mix and make it easier to break later. Place tray in the oven and forget about it for 6 hours or so. Since your treats are only getting air on the top, they will need to be flipped. The easiest way is to flip the whole pan over into a second pan, but if you want to separate them and flip them with a spatula, have at 'er!
Our treats have been in the dehydrator for about 3 hours!
(Looking at the picture, Mama probably could have chopped the veggies finer, but hey. Whatev.)
Tasty. Easy. Meaty. What more could you want in a treat?!


This is a blog hop!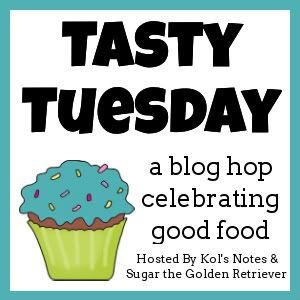 Every week, we invite you to link up your Tastiest Post and Hop On to discover all sorts of new treats recipes, great giveaways and more!
To take part, follow your hosts, Kol's Notes & Sugar the Golden Retriever, grab the badge from our sidebar,
get the InLinkz code
for your post, and add your link to this week's hop!
All posts are the property of Kolchak's Kitchen and Kolchak Puggle/Jodi Chick. Please ask before reposting content. All reposts must link back to our site. Thank you!