As a member of the Etsy affiliate program and an Amazon Associate, I earn from qualifying purchases.
Confession Time: For all the Mama woofs about healthy food, there's a human treat that she loves: those little one bite brownies.
Not the gross chemically ones from the store, but the ooey, gooey yummy ones she bakes right in Kolchak's Kitchen. As I sat in front of her the other day, begging for a bite, she got an idea. I kid you not, I could practically see the light bulb go on over her head!
One-bite brownies for dogs.
Obviously, they couldn't be chocolate, since chocolate is very toxic to dogs, but could we make a one bit treat that was just as yummy using canned food?
Yes, we can.


These are the "blonde" (buffalo) brownies.
The dark (liver) brownies are still in the oven.
These bite sized treats are so easy to whip up and they were a big hit with us pups. They worked best in our silicone mini muffin trays, but they also worked fairly well made in greased mini muffin tins.
Tasty Tuesday: Canned Food One Bite "Brownies" for Dogs
Ingredients:
1 - 13 oz. can dog food, use the 96-100% meat varieties
2 large eggs
1/3 c. water or chicken broth
1 c. + 1 tbsp. Red Mill Gluten Free Flour
1 tsp. baking powder
Instructions
Preheat the oven to 350F.
In a large bowl, mix together the dog food, eggs & water/broth. Stir in flour and baking powder. Spoon by the teaspoon into silicone mini cupcake trays. Bake for 35 - 40 minutes or until cooked through.
Allow to cool completely. Store in the fridge
(or tackle one of your Project 13 goals and deliver them to your local rescue for some pups in need!)
Does your Mama have a "secret" indulgence? Could it inspire a great dog treat?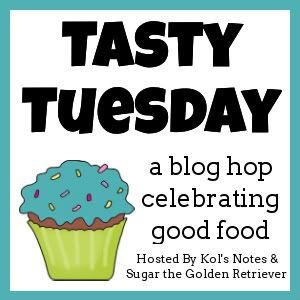 This is a blog hop!
Every week, we invite you to link up your Tastiest Post and Hop On to discover all sorts of new treats recipes, great giveaways
and more!
To join in, follow your hosts, Kol's Notes & Sugar the Golden Retriever, grab the badge from our sidebar and add your link to this week's hop!
All posts are the property of Kolchak's Kitchen and Kolchak Puggle/Jodi Chick. Please ask before reposting content. All reposts must link back to our site. Thank you!