As a member of the Etsy affiliate program and an Amazon Associate, I earn from qualifying purchases.
the Mama is still gallivanting around California, so today, we're sharing the recipe for one of our favourite treats: FISH BALLS!
Pocket's Sweet Potato & Fish Balls
~*~
a really crappy iPhone photo, Mom was too
lazy to find the camera. Way to be Mom.
INGREDIENTS:
1 VERY LARGE Sweet Potato or two medium sweet potatoes
4 Whitefish fillets (Cod, Haddock, Atlantic Whitefish..we're not picky – any white fish will do)
Preheat oven to 150F or prep food dehydrator.
Peel the sweet potato & chop into chunks. Place in a pot and cover with water. Boil until soft & tender (about 15 – 20 min.) Drain off all liquid and mash well (the SP will look a little dry, but don't be tempted to add moisture. This is exactly how you want it). Place in fridge and allow to cool until it is chilled enough to handle.
INSTRUCTIONS:
Dice whitefish into very tiny chunks (I tried for about 1/8″ cubes but it doesn't need to be perfect) or pulse in the food processor. Pick up handfuls of the fish and over the sink, squeeze out excess water. Place on a kitchen cloth or paper towel and pat fish pieces dry. Repeat until all fish is drained/surface dried.
In a medium glass or metal bowl, combine fish & sweet potato, mixing well. Scoop teaspoons of mix out of the bowl and form into balls placing them at regular intervals on drying racks (see below) or on the dehydrator trays. (To reduce drying time, you can press them down with your thumb like you would a peanut butter cookies, so they are disc shaped) Once you have played with your balls and they are all the right size and shaped, place in oven or dehydrator. If you are oven drying these, I recommend propping the oven open a little to vent the air moisture. Dry the balls for approximately 6 – 10 hours or until they are crunchy and dry all the way through.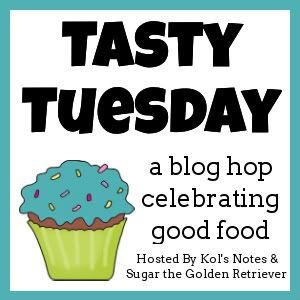 This is a blog hop!
Every week, we invite you to link up your Tastiest Post and Hop On to discover all sorts of new treats recipes, great giveaways and more!
To join in, follow your hosts, Kol's Notes & Sugar the Golden Retriever, grab the badge from our sidebar and add your link to this week's hop!
A blog hop celebrating good food!
All posts are the property of Kolchak's Kitchen and Kolchak Puggle/Jodi Chick. Please ask before reposting content. All reposts must link back to our site. Thank you!