As a member of the Etsy affiliate program and an Amazon Associate, I earn from qualifying purchases.
It's cookie season!
Something happens to my Mama this time of year. She's kind of kitchen crazy all year long, but when the holidays approach, she gets extra excited. She loves holiday cookies and she spends hours on end making her favourites.
This year, she's determined to make all her favourites dog friendly.
Do you know what that is? No?? Me neither.
All I know is Mama came home all jazzed up about it and promised that she was making
Linzer cookies
. I don't know about you dogs out there, but to me a cookie made of pecans and jam sounded awful.
Just awful.
Good thing my Mama knows what dogs like.
She made Chicken & Liver Linzer Cookies.
Holy woof I love my Mama.
They look good right? Plus, the can either be made with a crunch liver treat center or a soft liver paste center!
Tasty Tuesday: Chicken & Liver Linzer Cookies for Dogs
Ingredients:
12 oz. finely ground chicken breast
1 egg
1 cup Red Mill Gluten Free Baking Mix
1/3 Quinoa Flour
1/2 tsp. baking powder
1 tsp. coconut or olive oil
6-8 oz. raw chicken livers
Instructions
Line a baking sheet with parchment paper. Preheat oven to 350F.
In a medium bowl, combine ground chicken, oil & egg. Whip together with a fork until well mixed. Stir in baking powder, quinoa and flour, a little at a time. Work flour into the dough until it is stiff and not sticky.
Flour our counter top and roll out dough to about 3/16" thick. Use your linzer cutter (or an basic shape cutter) to cut out an even number of cookies. Cut out the decorative inner shape in half the cookies only. (I used the round cookie cut out and used a straw to add the holes for "paws".)
Place cookies on the lined baking sheets. Place in oven and bake for 10 - 15 minutes.
Crunchy Liver Centers: In a food processor or blender, puree the raw liver. Once cookies are baked, remove from oven and turn down to 150F. Spoon a small amount of liver puree onto each cookie base and top with a decorative cut out cookie.
Return cookies to oven to dry the liver (or pop them into a dehydrator). Bake for 3-6 hours, until liver is crisp all the way through and no moisture remains in the center of the cookies. Centers will look dark and shiny (like in our picture). Store in an airtight container for up to a month.
Soft Liver Centers: Place liver in a pot of boiling water and cook through. Allow liver to cool. In a food processor or blender, puree liver into a thick paste. Spoon a small amount of paste one each cookie, spreading it evenly. Top with a decorative cut out cookie. Centers will look light brown and pastey. (Heck! Feeling lazy? You could even use liver canned food!) Store in an airtight container, in the refrigerator for up to a week or in the freezer up to a month.
Are you in Lower Mainland, BC?
We can't be there (that Job guy is a real Mama hog), so we're sending a selection of tasty treats like our Crunchy Chicken & Liver Linzers, Pumpkin & Peanut Butter Bones and Meaty Bitty Bites treats in our place. Local friends can buy some tasty treats fresh out of Kolchak's Kitchen and support this Senior Animal Sanctuary at the same time. We hope you'll check it out.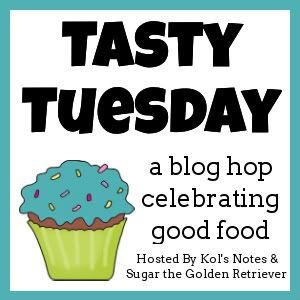 This is a blog hop!
Every week, we invite you to link up your Tastiest Post and Hop On to discover all sorts of new treats recipes, great giveaways and more!
To join in, follow your hosts, Kol's Notes & Sugar the Golden Retriever, grab the badge from our sidebar and add your link to this week's hop!
All posts are the property of Kolchak's Kitchen and Kolchak Puggle/Jodi Chick. Please ask before reposting content. All reposts must link back to our site. Thank you!