This past weekend was my buddy Slater's birthday.
Slater and I have a whole lot in common. We both have black fur, we're handsome as woof and we both have Mama's that like to get into the kitchen and whip up some tasty stuff. Slater's Mom is one heck of a cook. In fact, her bean dip is one of the Daddy's favourite dishes.
With such a talented Mama, it's no surprise that she whipped up some pretty awesome cakes for Slater's birthday party.


They look amazing right?
We love it when people actually take the time to make the recipes they find here. It really warms our hearts. We love it even more when they take a good recipe, like this one for
Sweet Potato & Carrot Treats
, and turn it into something fabulous like these Sweet Potato & Carrot Pupcakes. (I told you Slater's Mom was talented!)
Does your dog want to try these pawesome pupcakes?
Of course they do. Every dog wants to try Slater's birthday pupcakes, they're just trying to figure out how to convince their people to make them. Here's what the original recipe called for:
Tasty Tuesday: Cookies to Cakes – Sweet Potato & Carrot Treats Get a Make Over
Ingredients:
2 cups of wholemeal flour (Kol's Note: You can use a grain-free flour mix if your dog can't have grain)
1 carrot
1 cup of sweet potato, diced
2 generous tablespoons of peanut butter
1 egg
then Slater's Mom added:
1/4 cup honey
1/4 cup canola oil
1 teaspoon of baking soda
Instructions
Preheat the oven to 350F.
Chop the carrot and sweet potato into cubes. Bring a pot of water to a boil. Cook the sweet potato and carrot until soft. Drain off the water and mash the veggies.
In a mixing bowl, combine flour, egg, peanut butter, egg, oil and baking soda. Mix well.
Grease and flour glass ramekins, then fill with 2-3 heaping tablespoons of mix. Bake for 25 - 30 minutes.
Remove from oven and allow to cool. If you can, try to keep tall dogs from counter surfing.
Frost with cream cheese and top with carob sprinkles.
Serve with other tasty treats to a crowd of appreciative party guests.
HAPPY BIRTHDAY SLATER!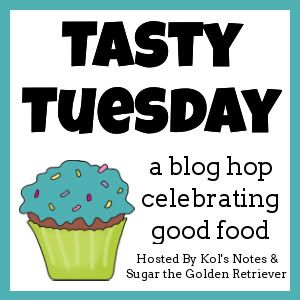 This is a blog hop!  
Every week, we invite you to link up your Tastiest Post and Hop On to discover all sorts of new treats recipes, great giveaways and more!
To join in, follow your hosts, Kol's Notes &  Sugar the Golden Retriever, grab the badge from our sidebar and add your link to this week's hop!
All posts are the property of Kolchak's Kitchen and Kolchak Puggle/Jodi Chick. Please ask before reposting content. All reposts must link back to our site. Thank you!
Comments
comments