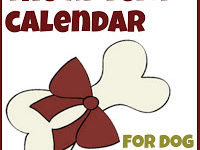 Welcome to the Advent Calendar for Dog Lovers hosted by Kol's Notes, PupLove, Rescued Insanity, Woof Woof Mama & I Still Want More Puppies! 



Every day between now and December 24th, we'll be giving away great prizes – plus every time you enter to win a daily prize, you'll also be entered to win our fabulous Grand Prize Package worth more than $1000 featuring gifts from each of our 24 fantastic sponsors! 
We can hardly believe that it's already the last day of the Advent Calendar! Happy Christmas Eve, you guys!
We have had so much fun woofing all about these great products and we hope you've had some fun too. As our final gift, we're leaving all of the Advent Calendar Giveaways open until 11:59 PM on December 31. Take a walk down memory lane and go back to enter any of the giveaways you might have missed.
Click here for the full calendar.
With no further ado, we're proud to introduce our final sponsor, Pawmetto Pet Treats!
Here at Casa de Kolchak the dogs raw food diet made with lots of real meat. We think this is the healthiest way we can feed our pups and we've seen huge improvements in their health since we made the switch. We loe having raw-fed dogs, but it was a HUGE adjustment finding treats that fit in with our diet philosophy.
Pawmetto Raw Diet Treats are made using 100% All-Natural USDA inspected meats. They're freeze-dried to remove the moisture without removing the nutrients or flavour.
Available in three tasty flavours: Beef Liver Chicken Liver & Lambs Liver. All three flavours are also available in a tasty food topper to use as a special treat or to help entice picky pups.
Liver treats are always a favourite at Casa de Kolchak. the Felix loves lambs liver and it's one of the few things that will get him to perform his few tricks.
Not just for raw-fed pets, Pawmetto Treats make a great treat for all dogs!
Pawmetto is giving today's winner their chicken liver treats, plus some tasty beef topper, plus their adding some lamb liver treats and chicken liver topper to our grand prize package worth more than $1000!
Enter now for your chance to win and check out the entire Advent Calendar for more chances to win great prizes. 
You must complete the Rafflecopter form and leave a comment below in order to be eligible to win. Good luck!
Kol's Note: I'm sad as woof to say that the tasty treats from Pawmetto aren't available in Canada. Canadian winners will receive an alternate prize of equal or greater value.
All posts are the property of Kolchak's Kitchen and Kolchak Puggle/Jodi Chick. Please ask before reposting content. All reposts must link back to our site. Thank you!
Comments
comments