As a member of the Etsy affiliate program and an Amazon Associate, I earn from qualifying purchases.
It's that season. You know the one I mean. Not Autumn. Pumpkin Spice Season.
Everyone who has ever tried to sell you anything is going to spend the next 6 weeks or so slapping the term Pumpkin Spice on everything and calling it "seasonal". Don't get me wrong: I love good pumpkin cream cold brew as much as the next basic b in the Fall and I don't want to rock the boat or make enemies here, but here goes (pauses for dramatic effect):
There is more to fall than pumpkin spice.
And if you happen to be a dog lover? Pumpkin spice can be very dangerous for your pooch. One of the main ingredients in pumpkin spice, nutmeg, is incredibly toxic to dogs, the worst side effects being tremors, seizures, convulsions, or death. I cringe every single time I see a dog treat recipe for "Pumpkin Spice" or even "Pumpkin Pie" because even if that specific recipe only has cinnamon? It's risky. What if people miss that and use a pre-made pumpkin spice mix, a canned pumpkin pie mixture or think they can share a human PSL treats with their dog? It doesn't take a ton of nutmeg to be hazardous (as little as 2 tsp. in humans). The risk just isn't worth it to me.
So in the spirit of sharing some seasonal snacks with your pet that won't make them sick, we're talking about our favourite fall flavours you can absolutely safely share with your dog.
Apples are a wonderful fall-friendly treat for your dog.
Apples are one of the stars of the Autumn harvest. No matter where you live, you can find any number of apple strains that are crisp, delicious, and totally dog friendly. If you live anywhere in orchard country, some orchards even offer dog-friendly apple picking experiences and country markets.
Always wash apples carefully to remove any chemicals or pesticides on the skin and cut out the core and any seeds, then share this fresh, flavourful fruit with your dog. Serve them fresh or check out our apple dog treat recipes.
People always seem surprised when I say that many dogs LOVE beets.
These rich, earthly flavoured vegetables are absolutely dog friendly and they are freshest and at their best in the Fall. Filled with healthy fibre and micronutrients, adding beets to your dog's diet is a great way to add a healthy treat.
Wash beets thoroughly and either scrub the skin with a vegetable brush or peel them. Boil, bake or roast them until they are fork tender.

Fun story, the first time I fed my dogs beets, I forgot to tell the Daddy. He took them for a walk and was so worried he took them to the vet because their poop was red. WHOOPS! My bad. I love beets, hot or cold, and now that my dogs recognize the smell, they beg for a taste of their own.
Kale is a delicious cool weather seasonal snack.
Don't throw hot garbage at me! I know. Calling kale "delicious" is controversial, but my dogs and I LOVE IT. EatSmart makes this bagged sweet kale salad with brussels sprouts, cabbage, broccoli and chicory and Kolchak will actually eat a whole (dressing-free) bowl of it. We all think kale is really tasty, but if you don't think you're dogs are down for a bowl of it try these Turkey and Kale DIY Dog Treats or these Kale Chips.
Cranberries are healthy and a great addition to homemade dog treats.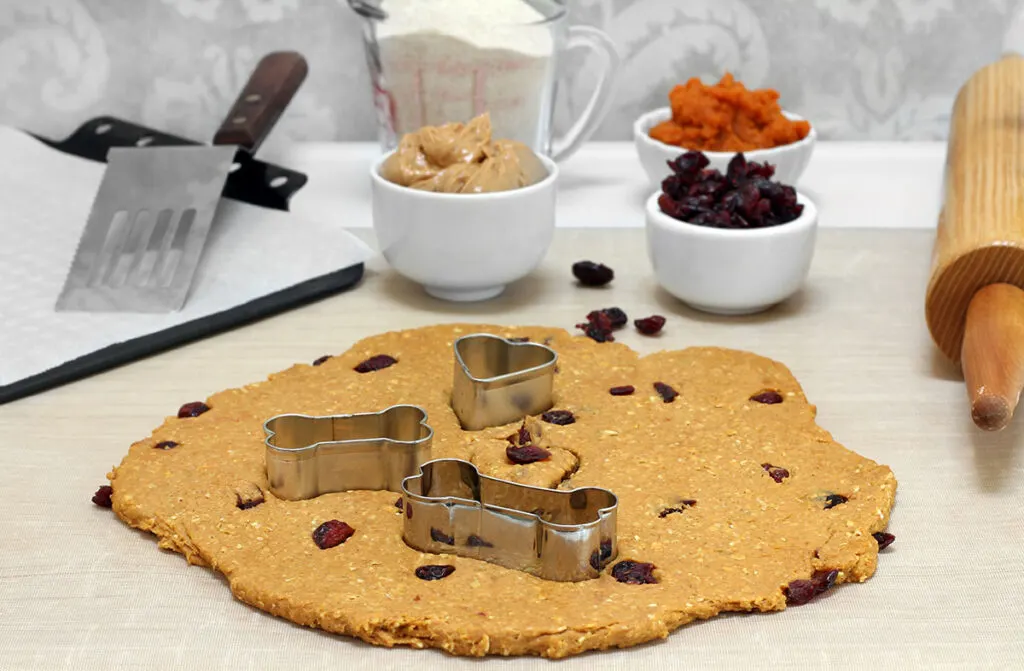 These tart, bite-sized berries are full of antioxidants for pets and their people. You might have a hard time convincing your dog to eat them plain, but they make a tasty addition to other flavours like sweet potato and turkey. Try incorporating the bright flavours of cranberry into your dog's diet with our Thumbprint cookies or Thanksgiving Jerky Treats.
Squash makes a great addition to your dog's diet as a food topper, in dog treats or even on its own.
While all the world is shouting their pumpkin-based love affair from the rooftops, I'm a secret admirer of the other members of the squash family. Butternut squash is my favourite and a staple at Casa de Kolchak. Did you know it's not just pumpkin that boast some big digestive benefits for dogs? Squash is a healthy, low calorie fibre source that can help tame tummy troubles. Anywhere you use pumpkin, you can use squash. (Just steer clear of kabocha squash and decorative gourds which have some anecdotal evidence to suggest they may not be fully dog safe.) Try our Autumn Gold squash dog treat recipe or this baked apple and squash dish that you and your dogs can share.

Kol's Note: I love to use zucchini in dog treats. This mild squash has such a neutral flavour that it will take on whatever you cook it with. I love to use onion-free chicken stock to create a meaty flavour Kol loves with a ton less calories.
Pears are one of my favourite fall foods and my dogs share that love.
Juicy, fresh and so flavourful, pears are one of my favourite things to eat in the fall, so it's only natural that my dogs enjoy them too. Just like with apples, you want to wash them well and remove the core and all the pips. Try them anywhere you would usually use apple or applesauce, in a coconut dog treat or (my fav) on top of dog-friendly pancakes.
Boiled, steamed, baked, or dehydrated sweet potatoes can be great snacks for your dog.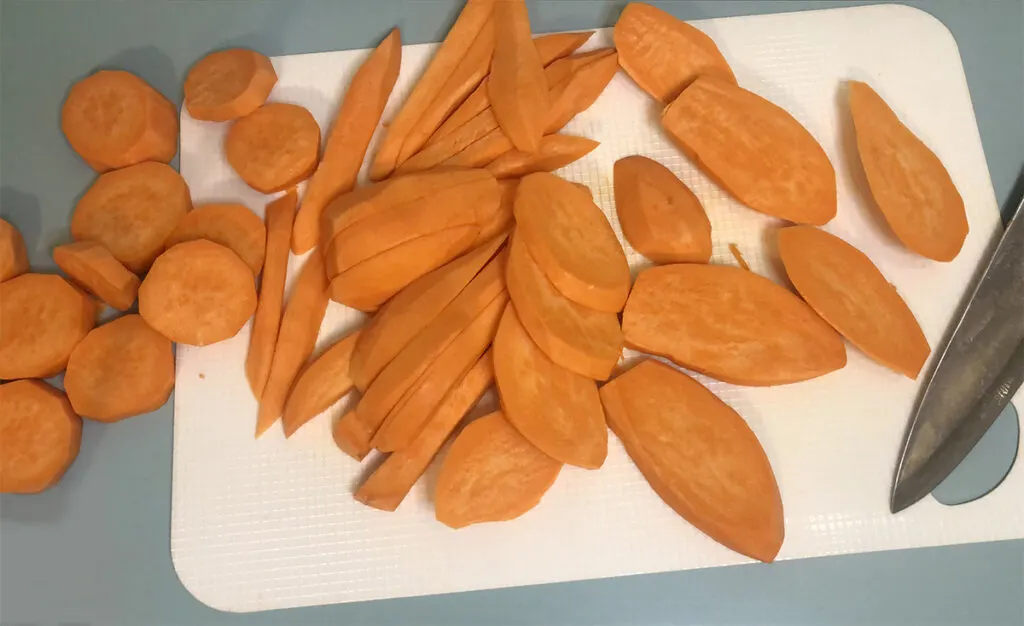 Oh sweet potato, how much do I love thee? Let the count the ways. I love sweet potato roasted and mashed and in baked goods and in soups. I love the warmth and richness it brings to fall food. This fall tuber vegetable is rich in vitamins and natural sweetness, but it is a starchy vegetable, so I would offer sweet potato in moderation and not as a daily snack. It's also a darn staple of the dog treat works and there are SO MANY WAYS you can use sweet potato in dog treats, but I think Kol's favourite it the classic Sweet Potato Dog Chew. You can check out our essentail guide to making sweet potato chews at home for more info on how cheap and easy these are to make.
Broccoli and Cauliflower are a delicious vegtable that is perfect for dog treats.
OK, so broccoli and cauliflower are (kind of) two separate, but very similar things, so I'm listing them together. They are both dogs friendly and pair PERFECTLY with one of my dog's main obsessions: cheese. No need to do anything fancy, I just steam these babies, sprinkle a little shredded cheese on top and watch the dogs (and humans) go wild.
If you've read all this and you're still all #TeamPSL, well, you do you, boo.
I think you're missing out on SO MANY awesome, dog-friendly Fall flavours. You can make delicious dog treat recipes with pumpkin, but they aren't by far the only dog-friendly fall flavour.
What is your favourite fall fruit or vegetable? Is it dog friendly and what do you make with it?
Originally posted Sept 17, 2017
Updated Oct 2, 2022