As a member of the Etsy affiliate program and an Amazon Associate, I earn from qualifying purchases.
Have I ever told you that the Mama is grain intolerant, just like the Felix?


It's true! She says eating whole wheat feels like she swallowed a whole box of pushpins. Sounds like a great time, Mama. For a while now, she's been making her very own crackers out of quinoa and she loves them.
Actually, us dogs love them too!
Even though some people refer to it as an "ancient grain", this tasty snack is actually a seed and it's legit good for pups and people. The Mama loves it's rustic flavour, the high protein content and how versatile it is. US dogs love that she'll spread a little smear of peanut butter on them and share.
As much as I love peanut butter, I know that what would really make quinoa shine is meat.
That's right, Mama. Your Quinoa Crisps are OK, but I would love a meatier version of these tasty treats.
Mama decided to mix salmon paste in with the quinoa instead of water and try it out. Wouldn't you know, it's tasty as woof! Felix and I love these thin crisps and they were really easy to make!
QUINOA CRISP DOG TREATS with SALMON
Ingredients:
2 cups canned salmon
+ water from the can for blending
1 cup cooked quinoa
2 tbsp. dried rosemary
Let's do this:
In a blender of food processor, blend the salmon into a thick paste, adding the water from the salmon can, as needed (you want to use as little as possible).
In a medium bowl, stir together salmon paste, quinoa and rosemary. Add quinoa flour, as needed, to create a loose, non-sticky dough. (Exactly how much flour you need will depend on how much water you used in the salmon paste.)
Knead together into a loose, non-sticky dough. (If it is still sticky, add quinoa flour until you can work with it.) Place the dough between two layers of parchment paper and roll out to ~1/8 thick. Remove the top layer of parchment. Use a knife or pizza cutter to carefully trim the dough into crackers.
Oven Method:
Place crackers and the parchment onto baking sheet. Bake at 200F for 3 hours, then flip. Return to the oven and bake for another 2 – 4 hours or until crisp all the way through.
Dehydrator method:
Place crackers on the dehydrator trays. Dehydrate for 6 – 8 hours or until crisp all the way through.
Store in a airtight container, away from moisture. If you've dried them all the way through they should have a shelf life of 3 – 4 weeks, but I doubt they'll last that long.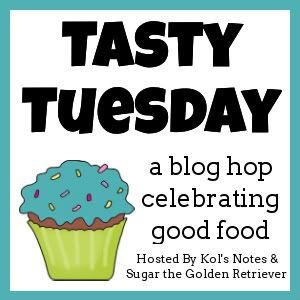 This is a blog hop!
Every week, we invite you to link up your Tastiest Post and Hop On to discover all sorts of new treats recipes, great giveaways and more!
To join in, follow your hosts, Kol's Notes & Sugar the Golden Retriever, grab the badge from our sidebar and add your link to this week's hop!



All posts are the property of Kolchak's Kitchen and Kolchak Puggle/Jodi Chick. Please ask before reposting content. All reposts must link back to our site. Thank you!